Cryptocurrencies have taken the world by storm, and their increasing popularity can be seen in the most googled cryptocurrencies worldwide in 2022. With more people turning to digital currencies as a viable alternative to traditional monetary systems, it's no surprise that certain cryptos are seeing more attention than others.
In this article, we will explore which cryptocurrencies have been the most searched for, why they've gained so much interest, and what this might mean for the future of digital currency. Read on to learn more about these top-searched cryptos and their potential impact on the global economy.
Bitcoin
Bitcoin is a digital currency, invented by Satoshi Nakamoto. Bitcoins are tracked and verified by a technology called the blockchain. Bitcoin offers advantages that other currencies don't, like being finite (there are only 21 million of them) and not tied to any government's value. This makes it a decentralized virtual currency with no regulation from a central authority.
Bitcoin transactions are fast, secure, and anonymous. They also have low transaction fees compared to other currencies. Bitcoin is a popular choice for online payments and purchases, being one of the first digital currencies available on the market. Its popularity has grown since its invention in 2009, and it continues to be a major player in the digital currency world today.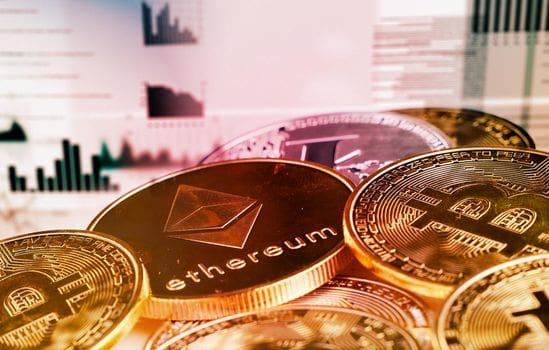 Ethereum
Ethereum is a decentralized platform that runs smart contracts: applications that run exactly as programmed without any possibility of fraud or third-party interference.
Ether is the cryptocurrency generated by the Ethereum platform and used to pay for transaction fees and computational services.
Ethereum enables developers to build and deploy decentralized applications. Decentralized applications have many benefits over traditional centralized apps, including increased security, transparency, and trustlessness.
The Ethereum platform is also being used to power a new generation of Decentralized Autonomous Organizations (DAOs). A DAO is a self-governing, decentralized organization with no central authority or administrator.
If you're interested in learning more about Ethereum, check out our beginner's guide.
Bitcoin Vs Ethereum: Everything New Crypto Investors Need to Know
Litecoin
With a market capitalization of $3.8 billion, Litecoin is the sixth largest cryptocurrency in the world. Created in 2011 by former Google engineer Charles Lee, Litecoin is often described as the silver to Bitcoin's gold.
Litecoin is based on an open-source global payment network that is not controlled by any central authority. Math-based algorithms secure the network and enable individuals to control their own finances.
Litecoin payments are faster than Bitcoin payments and can be processed by more merchants and businesses. Litecoin also has a higher total supply than Bitcoin, with 84 million coins compared to 21 million.
While Litecoin shares many similarities with Bitcoin, there are also several key differences that give Litecoin its own unique advantages. These include faster transaction times, lower fees, and improved storage efficiency.
Bitcoin Cash
Between December 2017 and January 2018, Bitcoin Cash was the most googled cryptocurrency in the world. The reason for this was likely due to the fork that took place on August 1st, 2017 which split the Bitcoin blockchain into two different chains, Bitcoin (BTC) and Bitcoin Cash (BCH).
This event caused a lot of confusion and curiosity amongst investors and the general public, leading many to search for information on Bitcoin Cash.
Since its inception, Bitcoin Cash has become a top 5 cryptocurrency by market capitalization and is widely accepted by exchanges and businesses worldwide. While it is still not as well known as Bitcoin (BTC), it has a growing community of supporters who believe that it is more true to form a version of Satoshi Nakamoto's original vision for Bitcoin.
Ripple
Ripple is a cryptocurrency that was developed in order to make it easier to transfer money between different currencies. It is also one of the most popular cryptocurrencies, with a market capitalization of over $13 billion as of January 2018.
Ripple has a lot of potential because it can be used by both individuals and businesses. Ripple is based on blockchain technology, which means that it is decentralized and secure. Transactions are processed quickly and securely, making it ideal for those who need to send money across borders quickly.
Ripple is also used by banks, as it allows them to move money more efficiently between different countries.
Elon Musk's favourite Dogecoin
Elon Musk's favourite Dogecoin is a cryptocurrency that was created as a parody of Bitcoin. Dogecoin has become very popular because of its fun, friendly community. It has also been supported by Elon Musk, who has tweeted about it on several occasions.
Musk has called Dogecoin "the people's crypto" and "a hustle," and he even created a SpaceX mission badge inspired by the coin. Dogecoin is seen as a fun coin with an active, enthusiastic community. It's become popular for tipping online and donations to charities.
Shiba Inu crypto
Shiba Inu is a Japanese breed of dog that was popularized by the famous Doge meme. In 2021, a cryptocurrency called SHIB was launched as a token of the Shiba Inu meme-based project. The project is an Ethereum-based decentralized finance (DeFi) ecosystem built on the Binance Smart Chain.
SHIB tokens are used for various activities such as governance, staking rewards and yield farming. The project also includes an NFT marketplace and its own exchange which allows users to buy and sell crypto assets.