Top 3 Memecoins To Invest In As 2023 Draws Near: Memecoins have a distinct fan base in the cryptocurrency world, and many investors are optimistic about its growth prospects. Despite the fact that these cryptocurrencies initially started as a joke, their rising utility has drawn more buyers to the market. So, here are the top three meme coins you can invest in 2023.
Dogecoin(DOGE)
Dogecoin's price has plunged 89.51% from its all-time high of $0.7376 during the current downtrend and is trading at $0.077. The technical chart reveals that the price movement has almost gone sideways, indicating that the bearish momentum is running out.
Additionally, for the previous six months, this lateral walk has been maintained and the $0.056 level has served as a solid bottom support.
In comparison, the RSI slope increases even if the doge is in a consolidation period, indicating that the underlying bullishness is rising.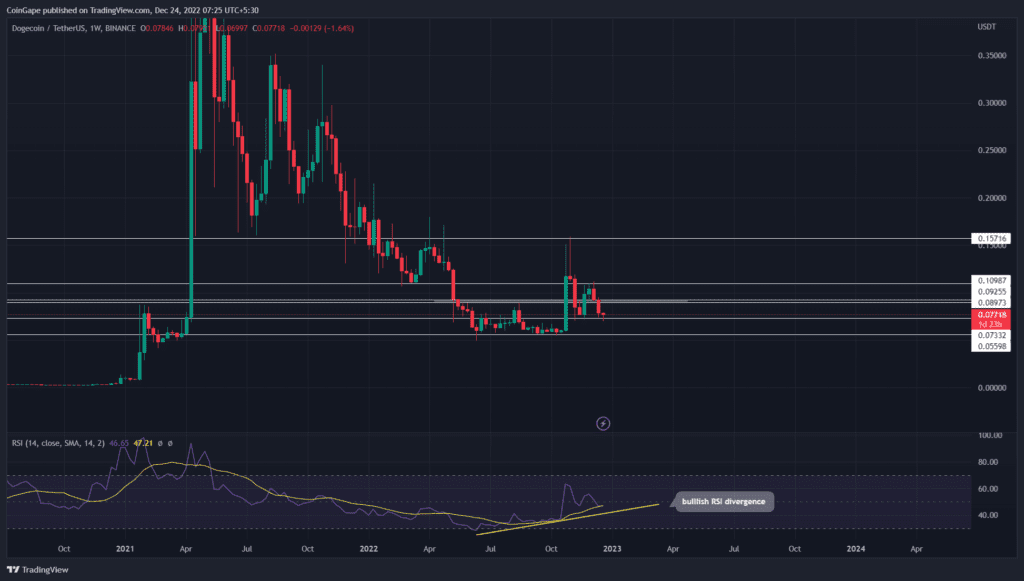 As of the time of writing, Dogecoin is attempting to hold above the $0.073 local support. Additionally, this week's candle's low price rejection suggests that buyers are attempting to retrace their steps from this support.
By the middle of 2023, the price might reach $0.0157 with consistent buying.
Shiba Inu Coin(SHIB)
The Shiba Inu currency dropped 90.62% from its all-time high of $0.00008845 to its present price of $0.00000828. The SHIB has thus been on a sideways rally for the past seven months, much like dogecoin, signaling that the buyers are defending the lower levels.
As of the time of writing, the SHIB coin is retesting the $0.000008 bottom support from June. On the weekly time frame chart, the coin additionally exhibits the formation of a falling wedge pattern. This is a bullish continuation pattern that, in principle, supports a strong bull run upon breaking through its resistance trendline.
This bullish breakout might push the price of SHIB to $0.000001 by the first quarter of 2023, depending on how the market reacts.
Dogelon(ELON)
Dogelon's market value has declined dramatically, dropping by 99.10% from its all-time high of $0.00003263 to $0.0000002912. However, ELON's seven-month consolidation signals that prices are attempting to bottom out at a support level of $0.00000023.
The weekly chart also demonstrates the development of a symmetrical triangular pattern. This continuation pattern might release the restrained bullish momentum and lead to a price rally in that direction. Price has been fluctuating between the convergent trendlines in anticipation of a breakout.
The RSI indicator's bullish divergence, which shows strength in the current price trend, indicates that the ELON price is likely to break the overhead trendline. Prices might rise by 92% on this bullish breakout, reaching $0.000000566 by the middle of 2023.
Also Read:
Dogecoin And Shiba INU Will Be The Next Major Cryptocurrency!