Using a credit card to purchase cryptocurrencies such as Bitcoin, Ethereum, stablecoins, and others are possible. Still, the transaction may be denied by either your credit card provider or the exchange selling the cryptocurrency.
Most significant credit card issuers in the United States do not permit the purchase of cryptocurrency, and those that do impose fees on cardholders who make cryptocurrency purchases.
Credit card use is not encouraged by all major cryptocurrency exchanges, including Coinbase. For example, Coinmama and CEX.io advertise that they take credit cards but specify that only Visa and Mastercard are accepted.
Therefore, before you can even start buying cryptocurrency using a credit card, you need to first find a credit card company that supports the practice and cryptocurrency exchange that also does.
Cryptocurrency with a Credit Card
If you want to buy cryptocurrency using a credit card, you will need to locate a platform that supports this payment method and confirm that you own a credit card compatible with the purchase.
It's possible, for instance, that you may pay for it with a credit card like the Alliant Visa Signature Card* or the USAA® Preferred Cash Rewards Visa Signature® Card*. You may need to test purchases using one of the other credit cards available from smaller issuers to determine whether it will function for purchasing cryptocurrency.
You could also be able to buy cryptocurrency using your preferred American Express credit card. However, you'll probably have to go through some additional processes. For instance, a site known as Paxful enables users to buy up to $200 worth of cryptocurrencies using an American Express gift card daily (which you can buy with an Amex credit card).
When buying crypto with a credit card, you're likely to run into problems, but there are a few traps and fees you should watch out for.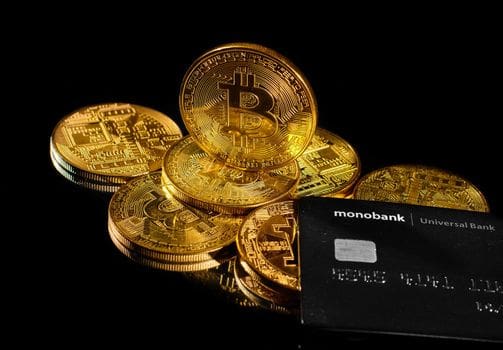 Cash Advance Fees
Even if the transaction that you attempted with your credit card on the exchange is successful, you still need to be aware of the way that the issuer codes that purchase.
Credit issuers may consider the purchase of cryptocurrency to be similar to the purchase of cash and may so charge you a cash advance fee. This fee is often $10 or between 3 and 5 percent of the amount advanced, whichever is greater.
This cash advance price is in addition to the fee that you may be charged for using a credit card, which means that you may end up owing up to 9 percent of the whole transaction in fees, which is an amount that is barely worthwhile by any metric.
Some cash advances start adding interest right away, while most credit card transactions don't start adding interest until the date your statement is due. Even worse, the interest rate on a cash advance may be higher than your normal rate.
Exchange Fees
The possible cost that the exchange will charge you in order to complete the transaction using your credit card is something that you will want to keep an eye out for. These costs can often be as high as 4% of the transaction, which, if you're making a significant purchase, can quickly add up to a significant sum of money.
Further, when you compare this to the fee that you might be charged for a debit card or ACH transaction (which, depending on the exchange you're using, could be 0.5 percent, 0.35 percent, or even free), making the purchase with your credit card starts to feel like a losing proposition. This is because debit card and ACH fees can range anywhere from 0.35 percent to free.
High-Risk Asset Borrowing
The problem is that cryptocurrency is an exceedingly hazardous asset, and many investors who bought it in the previous year are now losing money on their investments. When an investment loses value to the point where it is now worth less than what you bought for it in the beginning, the investor is said to be "underwater."
There is optimism that the price of bitcoin will eventually bounce again. However, if you had to take out a loan in order to make the original purchase, it might be challenging for you to wait through the reduction in pricing.
Not Earning Rewards
To make matters more difficult, if your issuer classifies purchases of cryptocurrency as transactions similar to cash, then it is quite unlikely that you would earn any benefits for these purchases.
To make matters more difficult, if your issuer classifies purchases of cryptocurrency as transactions similar to cash, then it is quite unlikely that you would earn any benefits for these purchases.
You read that correctly; not only will you be subject to increased costs, but you also won't receive incentives for that transaction to help offset the price that you will pay. This means that the fees that you will pay will be higher overall.
Getting Your Card Frozen
If you try to buy cryptocurrency using a credit card and the card's issuer believes the transaction to be fraudulent or otherwise suspicious, the issuer may freeze your card until it can be verified that you are the person attempting to make the purchase.
Final Words
In the end, even though it is technically possible to use a credit card to buy cryptocurrency, doing so is not always simple, and for the vast majority of people,it is not a financially wise decision due to the fees that are occasionally associated with such a transaction.
Trending Topics:
5 BEST CRYPTOCURRENCY TO WATCH AND INVEST IN 2022
CAN CRYPTO HOLDERS RECOVER LOSSES IN COURT?