XRP gets a new boost to help it grow.
After the recent court decision in the Grayscale vs. SEC case regarding a spot Bitcoin ETF, XRP's value increased by more than 6%. The cryptocurrency market, especially XRP, benefited from this decision.
Investors are regaining confidence in XRP, particularly because the SEC is appealing a court verdict that ruled it a nonsecurity.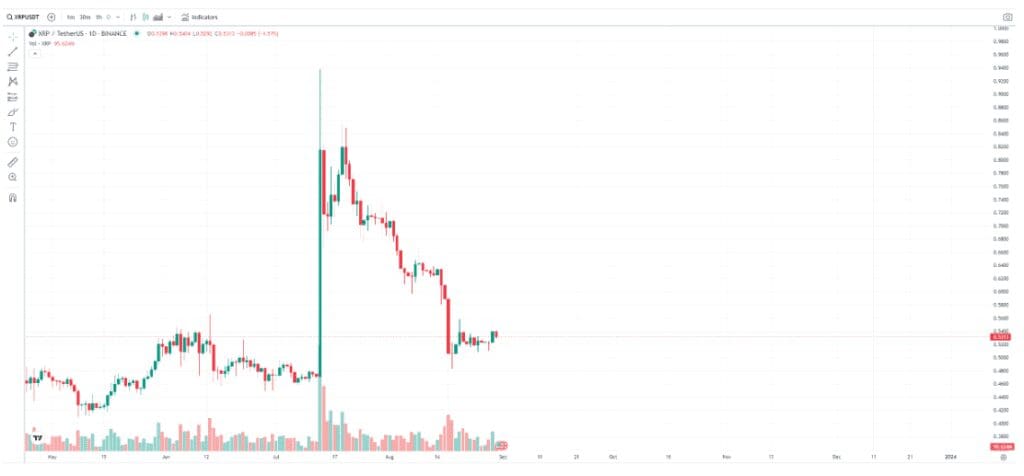 Bitcoin and other digital assets like XRP appear to have gained confidence after the SEC's Grayscale setback. Another legal setback could damage the regulatory body's stance on cryptocurrency. 
Good News For XRP Investors
The SEC's appeal of the initial judgment, which declared XRP a nonsecurity, has clouded the asset and its investors. The Grayscale ruling may indicate how regulatory disputes would play out, potentially favouring cryptocurrencies.
It is important to keep in mind that the price of XRP has been rather unstable, affected by a variety of variables, including regulatory announcements and market sentiment. However, the latest spike shows a short-term positive trend. The Grayscale vs. SEC verdict may have sparked XRP's revival. 
It is too early to assess the long-term effects of these legal challenges on XRP or the cryptocurrency market, but the immediate effect has been favourable. 
Investors should monitor the SEC's XRP appeal. A victory in that case would strengthen XRP's standing and maybe result in additional price increases.