Among the top 100 assets, five tokens stand out as the ones that have suffered the most in recent times.
As July winds down, the crypto market has fluctuated, with certain assets falling in 30-day performance.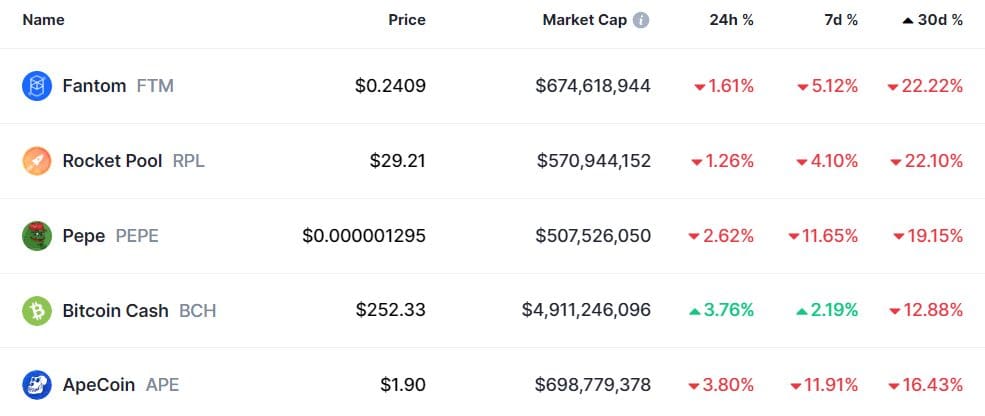 Fantom (FTM) suffered a severe blow. Its price dropped by a shocking 22.22% in the last 30 days. Midway through July, Fantom lost control of the $0.31 price region to the bears after regaining it in a stunning 24-hour rise. This was the beginning of Fantom's problems.
Fantom, which is currently trading at $0.2409, has had a difficult time maintaining a steady trajectory because both its 24-hour and 7-day percentages are down. It has down 5.12% over the previous week and had a 1.61% dip in the past day.
Rocket Pool (RPL) experienced a similar outcome, dropping 22.10% over the course of a month. At $29.21, Rocket Pool underperformed during all time periods that were observed.
It has suffered a 4.1% loss over the last seven days, and a fall of 1.26% over the past 24 hours.
Pepe (PEPE) saw a little loss in value during the last 30 days, dropping 19.15%. Despite a whale buildup pattern that was seen last week, this 30-day decrease persisted. Notably, between July 24 and July 25, $6.7 million worth of PEPE was purchased from an unnamed address.
Additionally, Pepe is trading at $0.000001295. In the midst of the market-wide unrest, the asset has had difficulty making up lost territory. While its 24-hour performance showed a decline of 2.62%, it saw a loss of 11.65% during the previous week.
Similar issues were present with ApeCoin's (APE) 30-day performance, which saw it lose 16.43% of its value since the beginning of July. On July 11, amid growing debate regarding the pay structure of the ApeCoin DAO, APE had a depressing one-week decline of 28%.
Currently, the asset is being traded for $1.90.
Bitcoin Cash (BCH) also entered the list of losers, despite a massive 166% spike in the two weeks preceding up to July 4. The asset has been down 12.88% during the past 30 days.
Despite having positive 24- and 7-day percentages, it is among the top 5 losers of July due to the overall value decline that began on July 14. Bitcoin Cash has increased in value by 2.19% over the past week and by 3.65% over the past day.
Furthermore, these tokens were linked by the notable decline in social volume that has occurred since June 10. They performed horribly as a result of this negative trend, which caused investors' interest to drop sharply.
BCH experienced notable increases in social volume from late June to early July, but the asset was unable to escape the gloomy market mood as it gave up the $297 monthly high on July 4.