Bitcoin had its greatest month in January since October 2021.
Despite the unfavourable forecasts for the current year and the extremely gloomy 2022, bitcoin proved all the critics wrong in January by rising its USD value by approximately 40%.
Consequently, this was the asset's most successful January since 2013.
Bitcoin's Massive Gains After 10 Years
The year 2022 ended up being one of the worst for bitcoin in terms of price fluctuation as the entire sector dropped amid significant crashes. The implosion of the Terra ecosystem in the middle of the year was just the beginning; soon after, many companies with exposure to LUNA and UST filed for bankruptcy protection.
Read More: The Fall Of UST LUNA: Crypto's Greatest Crash!
At the end of the year, the industry was just beginning to show signs of recovery when FTX crashed even more severely. Since it was one of the industry's giants up until November, the outbreak spread quickly, causing an almost universal impact.
Referring to bitcoin once more, it fell below $16,000 for the first time in roughly two years. For reference, on January 1, 2022, it traded above $46,000. So, even though it ended the year with an addition of almost $1,000, it ended the year with a decline of 65%.
Similar circumstances prevailed during the first week of the new year, with BTC trading at just below $17,000.
After finally breaking above that coveted line on January 9, the asset has continued to rise. On the contrary, it increased by double digits during the last weekend, reaching a 5-month high of $24,000. Bitcoin nonetheless managed to conclude the month at almost $23,000, a 39.66% increase, according to CoinGlass, despite losing some value during the following two days.
This has elevated January's performance to its highest level since 2013 when it soared by 44%. Since October 2021 (39.93%), this past January was generally the greatest month for Bitcoin (BTC).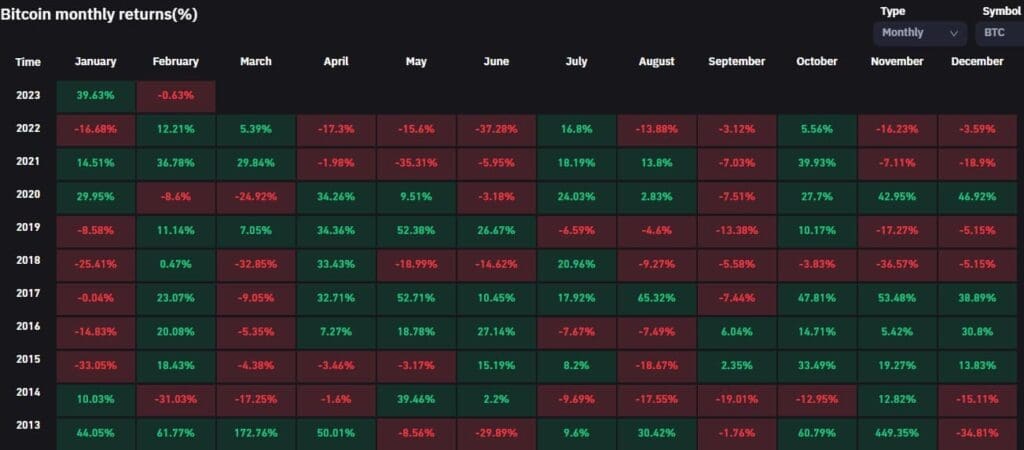 What About February?
It will be interesting to see what the past has to say about how BTC performs in February, which is already here. Since CoinGlass keeps statistics(2013), it has been a very good year for cryptocurrency, as the image above illustrates.
In fact, February in the previous decade was the best, with prices surging by an astounding 61.77%, followed by 2021 (36.78%). Only in 2014 (-31.03%) and 2020 (-8.6%) did the value of bitcoin end the month lower than when it started.
Numerous BTC supporters anticipate significant price increases this year, while critics anticipate another year of falling prices.