What is Move-to-Earn?
Move to earn basically refers to a system that rewards users for being active. Users can earn great rewards for being active on these platforms and access a new income stream by getting engaged in specific fitness-related and exercise routine challenges.
It follows the Play-To-earn trend, where players are compensated in crypto for participating in these games.
These systems mostly attempt to promote a healthy lifestyle and reward people for achieving fitness, carb obesity, sedentarism, and provide users with a great opportunity to earn by improving their health.
When its users complete their fitness challenges such as jogging, walking, running, or swimming. This program rewards them virtually universally in the form of native utility tokens exclusive to a particular platform.
Move to earn is a new trend in 2022, which has appeared a lot lately, particularly with the success of STEPN, a cryptocurrency token using the SOL blockchain that has brought huge profits for its users. Particularly, Binance launched its 28th Project on Binance Launchpad.
STEPN is bullish while there are already some projects such as Genopets because STEPN completed the product before launch, the interface was easy-to-use and simple. It won the price "The Solana Ignition Hackathon".
Resultantly, StepN received much attention when Binance announced that StepN would launchpad on Binance. This information brought the popular Move-To-Earn keyword.
Other than StepN, there have been many notable growth move-to-earn projects on Ethereum last 7 days, such as DEFIT, Aircoins, Dotmoovs, DOSE, and YetiCoin.
GENE (Genopets)
Market Cap: $33,947,407
Price: $8.77
Genopets is the first, Move to earn NFT game on Solana is free to play and makes you have a healthy lifestyle that is enjoyable yet lucrative.
It integrates the user's step data from their phones with blockchain play-to-earn economics to enable its players to earn crypto for real-world action.
Via Genopets, players are being rewarded with cryptocurrency for fulfilling the challenge. Moreover, it combines the evolution and the nurture of Tamagotchi, the combat and training of Pokémon, and the fitness and social incentives of Strava. This phrase is known as "Move-To-Earn" by Genopets.
For this purpose, a governance and staking token called GENE Token is used for creating in-game NFTs and shows the worth of the Genopets game.
$GENE has a 24-hour trading volume of $1,580,116. The circulating supply of GENE coins is 3,871,085, and a maximum supply of 1000,000,000 GENE coins. Genopets $GENE trades on Bybit, Bitget, MEXC, DigiFinex, FTX and MEXC.
GST (Green Satoshi Token)
Market Cap: $23,268,587
Price: $0.1093
GST (Green Satoshi Token) is a game token for STEPN, a Web 3.0 lifestyle software with entertaining social features and a gamification design. STEPN is the first move-to-earn NFT game in which the players can earn GST tokens by moving around outside while sporting NFT Sneakers and running, jogging, or walking.
Players can rent or sell their NFT sneakers on the App Marketplace. GST tokens can also be used to level up and mint new sneakers.
The project's objectives may include introducing people to the idea of Web 3.0, thereby inspiriting them to live an active or healthy lifestyle.
The GST serves as the game's currency, and the GMT (Green Metaverse Token) serves as the platform's governance token. The STEPN platform was powered by SOL at the start.
STEPN team expects to achieve a breakthrough and gives lovers of physical fitness the chance to profit from their craze of running with bitcoin. They do so by adding community and social features to their products.
$GST has a 24-hour trading volume of $13,802,457 with a circulating supply of 210,116,199 GST coins. The $GST is currently Bybit, Bitget, MEXC, FTX, and CoinTiger.
STEPN (GMT)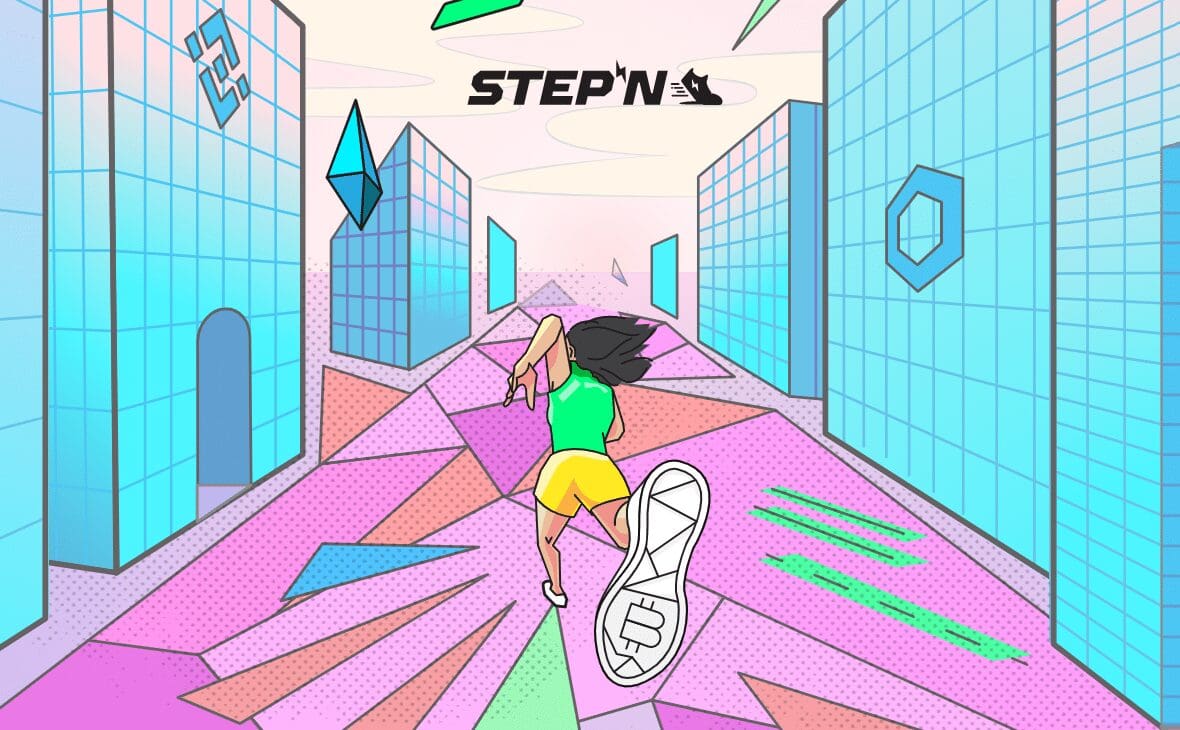 Market Cap: $498,044,456
Price: $0.8294
STEPN is a "Web3 lifestyle app" with GameFi features on the Solana blockchain. It creates a new category called "Move-To-Earn" by combining elements of fitness software and a play-to-earn game. Its users purchase NFT sneakers for running, walking, or jogging while earning in-game currency.
The app addresses many issues, like "proof of movement" (showing that users actually exercised) and a working GPS system.
In addition, STEPN monetarily pays users, intends to incorporate social reward features, and successfully contributes to carbon neutrality. Both iOS and Android users can download the app.
Users can install the app, create a wallet, purchase a pair of NFT sneakers, and then can start earning in the game's Solo Mode. They can gain GST (Green Satoshi Tokens) by moving around quickly. The amount of GST various types of sneakers can return varies, and the better the efficiency attribute, the more GST the user can make every minute.
The gamification of fitness is now introduced, which is STEPN's second groundbreaking component. STEPN gamifies and encourages users to lead healthy lifestyles using the app's in-game awards, personalized footwear, and daily energy allocations.
$GMT has a 24-hour trading volume of $197,147,163 with a circulating supply of 600,000,000 GMT coins and a max. Supply of 6,000,000,000 GNT coins. Top crypto exchanges for trading $GMT include Bitget, Binance, Bybit, OKX, and BTCEX.
XYO
Market Cap: $87,522,731
Price: $0.006817
XYO is a technology protocol that improves certainty, validity, and data value. According to the website information, they tend to build a data marketplace that enables users to have gold standards for websites, apps, and blockchain technologies that depend on trusted data.
Furthermore, they are building the world's first Reality Oracle, a bridge between the physical world and secure blockchain data.
XYO depends on development decisions for growing its node count and developer resources. XYO prioritizes accuracy, data security, and trust.
$XYO is a cryptocurrency that uses the Ethereum platform for its operation. $XYO has a current supply of 13,960,974,963 with 12,844,821,265.9205 in circulation. The last known price of $XYO is 0.00681441 and is up 6.58% during the last 24 hours, with a 24-hour trading volume of $2,365,766. Currently, it is trading on top exchanges like BingX, MEXC, ZB.COM, KuCoin, and Phemex.
DISCLOSURE:
This is not investment or trading advice. So, always research before buying any cryptocurrency or investing in any Move-To-Earn tokens.
Also read:
GET FIT WITH SWEATCOIN: EARN BY WALKING APP
CRYPTO BEAR MARKET OPPORTUNITIES
WHAT WILL THE NFT INDUSTRY LOOK LIKE DURING THE SECOND HALF OF THE YEAR?