"FTX Trading Ltd., commonly known as FTX, is a bankrupt company that formerly operated a cryptocurrency exchange and crypto hedge fund", Wikipedia introduces FTX in today's date. As FTX prepares a relaunch in the upcoming winter to get the fallen soldier up and running, let's take a moment to understand a chronology of what decided the downward trajectory of FTX, a multi-billionaire company overnight.
MIT graduate and former Jane Street Capital international ETF trader Sam Bankman Fried established FTX in 2018 which operated in a range of trading products comprising derivatives, options, volatility, and leveraged tokens.
On Nov. 11, 2022, FTX filed for bankruptcy and Bankman-Fried resigned. According to its bankruptcy filing, FTX, which was once valued at $32 billion now crumbles at $8 billion of liabilities it is supposed to pay back to its more than 1 million creditors.
In its initial days, Binance was an early investor in FTX. But, as time passed, FTX started to show a crazy upwards growing curve and in no time, they leaped on to become the second biggest exchange in the world. This came along with huge marketing deal signings with the likes of basketball giant Stephen Curry and Tom Brady. Sam Bankman Fried rose to insane fame and became one of the biggest personalities to look out for. SBF was featured on the cover of the 2022 edition of Fortune magazine which acclaimed his ability to build an empire like "Oracle of Omaha" and his courageous move to bet high on crypto in a moment of crisis. The subtitle of the cover wrote "THE NEXT WARREN BUFFETT?"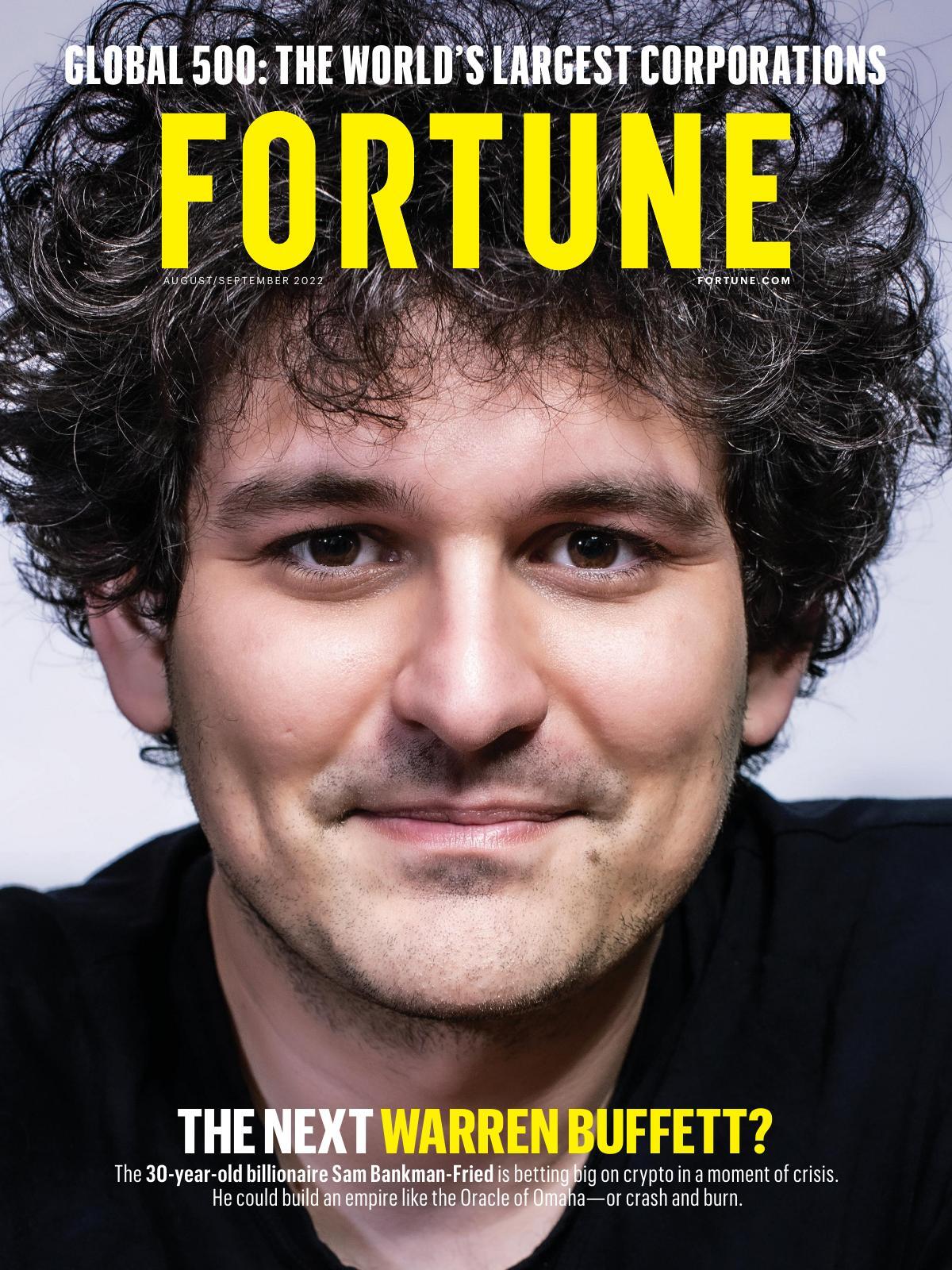 What started as a friendship was now turned into a competition in the market. The #1 exchange platform Binance decided to sell its stakes in #2 FTX. However, as a buyout deal, Binance agreed to take $2B of it in FTT, which was a token that FTX created as a floating currency for the trading fees.
With the sellout of stakes, Binance and FTX were the new frenemies in the market, the new friendly competitors. However, Binance owned a huge trading volume of FTT tokens, i.e., $2B of FTT tokens.
Here comes the mastermind of the story, the CEO of Binance, Changpeng Zhao. He issued a public statement saying that SBF has been lobbying regulators in such a way as to create a negative perception of Binance. Also, he made a public announcement on his Twitter where he has more than 7M followers, that he is going to dump his entire $2B FTT portfolio.
As part of Binance's exit from FTX equity last year, Binance received roughly $2.1 billion USD equivalent in cash (BUSD and FTT). Due to recent revelations that have came to light, we have decided to liquidate any remaining FTT on our books. 1/4

— CZ 🔶 Binance (@cz_binance) November 6, 2022
Anyone who was holding FTT knew that it was bad news because dumping a $2B volume of FTT would create selling pressure which would tremendously crush prices. This panic situation resulted in a huge volume of FTT tokens being sold worldwide. No one was willing to buy FTT. Prices began to drop more than 15-20% overnight.
Back when SBF established FTX, he also started a hedge fund named Alameda. They had around $12B of assets and $7B of liabilities. However, more than 50% of their assets were in the form of FTT tokens which were crashing crazy and going illiquid. This meant Almaeda was about to go bankrupt. Since Almaeda and FTX were unspoken sister companies, troubled Almaeda meant a hanging sword on FTX's neck. Alameda handled and held/ traded customer deposits at the backend for FTX. However, their relationship was unclear for years.
People looked up to SBF's validation to show that the company was in good health which they clearly were not. SBF tweets assuring everything is fine. However, the speculations started soaring about the skeptical denial by SBF.
Almaeda's CEO came out with a tweet saying that they will "happily" buy the FTT token as it plunged. However, even with the exclamation mark, his happiness seemed unclear.
@cz_binance if you're looking to minimize the market impact on your FTT sales, Alameda will happily buy it all from you today at $22!

— Caroline (@carolinecapital) November 6, 2022
24 hours had passed and there was no public exhibition of the financial strength of FTX on the show yet. The distrust started to spread faster than fire in the jungle as people started withdrawing funds from FTX. Almost, $1B of withdrawals happened in no time. FTX was facing a high time in maintaining its liquidity. It was the one of the final nail in the coffin struck with a bludgeoning blow.
SBF comes out saying that they are entering a "strategic transaction" with Binance. CZ, the CEO of Binance, clears the air. Tweets "FTX was in trouble. We bought them to save them." This was a masterclass chess trial from Binance. They started a rumor, made a threat, and announced to buy their biggest competitor overnight. The crypto industry had never seen anything like it ever. However, a major crypto crisis was averted for now. Had FTX failed, it would have been devastating for the entire crypto space.
However, on the 9th of November, Binance walked away from the FTX acquisition citing a huge gap between assets and liabilities amounting to more than $6 Billion. The corporate due diligence raised concerns about a major mishandling of customer funds.
On the 10th of Nov, Bahamas' securities regulators froze FTX assets. SBF admitted the liquidity crisis of its non-US business and admitted the insufficiency of funds to meet customer demands. An official investigation had been initiated into FTX.
1) I'm sorry. That's the biggest thing.

I fucked up, and should have done better.

— SBF (@SBF_FTX) November 10, 2022
On the 11th of Nov, SBF resigned as CEO of FTX, with John Ray replacing him as FTX CEO appointed by the court. He had a history of leading the energy trading firm Enron through bankruptcy before. On the same day, SBF filed for Chapter 11 Bankruptcy protection. As per the filings, FTX had assets and liabilities in the range of $10B to $50B. Within hours of a bankruptcy filing, FTX reported an alleged hack, amounting to around $477 million, and moved its assets to cold storage. On Nov 18, the Bahamas' security commission took control of cryptocurrency assets held by FTX in cold storage.
SBF was arrested on 12th December 2022 and was charged with multiple fraud crimes and embezzlement accusations. New FTX CEO Ray accused FTX of practicing "no bookkeeping". The court declared it one of the biggest crimes in financial history.
What's the fortune of FTX and the concerned crypto market ahead?
With SBF going down and a historical collapse, the future of FTX is jeopardized. SBF is set to face trial on eight criminal charges on Oct 2, 2023. On the bottom line, the collapse of FTX had a huge ripple effect and implications on a broader scale in the crypto industry.
2 "FTX was killed by xyz (ie, a 3rd party)"

No, FTX killed themselves (and their users) because they stole billions of dollars of user funds. Period.

— CZ 🔶 Binance (@cz_binance) December 6, 2022
Whatever the implications be, this whole drama staged the masterclass of CZ and Binance to their single virtue over the throne.