The announcement that exchanges are suspending deposits for stablecoins with a Solana base had sent SOL cryptocurrency collapsing yet again in the midst of the FTX turmoil, plummeting 7%.
Following the collapse of FTX, many cryptocurrency exchanges have continued to implement action, most recently by suspending deposits in Solana-based Tether USDT and USD coin.
On November 17, Binance stated that Solana-based USDT and USDC platform deposits had been "temporarily suspended until further notice."
The stablecoins USDT and USDC are still usable for deposits on other blockchains, therefore the exchange referred to the tokens as "USDT (SOL)" and "USDC (SOL)".
Adding that it "reserves the right in its sole discretion to revise, change, or revoke this announcement at any time and for any reasons without prior notice," Binance revealed nothing additional about the move. Besides that, the company resumed accepting deposits for Solana-USDT.
Solana-based stablecoins for deposits have also been suspended from other exchanges including OKX and ByBit. At 3:00 in the morning UTC on November 17, OKX ceased their deposits, while ByBit apparently disabled similar deposits as of that day.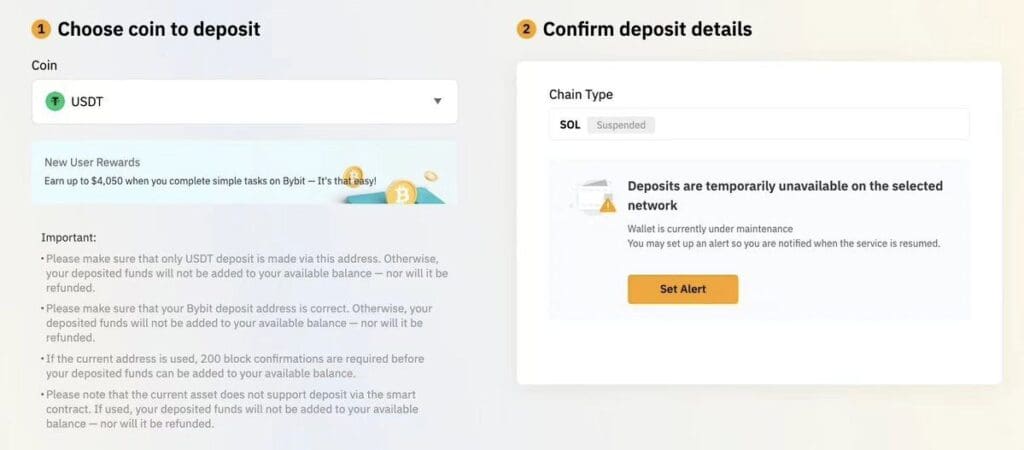 The supply of Solana-USDC is 62% greater than the supply of Solana-USDT, according to on-chain data. 5 billion USDC ($5 billion) worth of USDC is now in circulation on Solana, constituting 11% of the token's current market valuation.
1.9 billion tokens ($1.9 billion) or just about 1.3% of USDT's total market worth make up all of the Solana-based USDT.
Following this, USDC issuer Circle tweeted that USDC on Solana is running normally and that there are no problems with issuing or redeeming the stablecoin. The company continued, "USDC is always redeemable 1 for 1 for US dollars. Any amount. Any time. For free. Always.
USDC on Solana is operating as expected and there are no issues with issuing or redeeming USDC. USDC is always redeemable 1 for 1 for US dollars.
Any amount. Any time. For Free. Always.

— Circle (@circle) November 17, 2022
A decentralized network called Solana is connected to the troubled cryptocurrency exchange FTX by the token SOL, which has been linked to Sam Bankman-Fried. SOL has been falling along with FTX Token and other related coins during the present FTX crisis (Bankman-Fried was an early investment in Solana through Alameda Research).
The suspensions of the Solana-based USDT and USDC have triggered even more negative experiences for SOL, causing the cryptocurrency to drop 7% in relation to the most recent information. According to CoinGecko, SOL is currently trading at $13.1, down almost 60% over the previous 30 days.
This information was released shortly after Binance stated that it would stop allowing USDC to be traded on its platform. Although the exchange accepts USDC deposits, it automatically converts them to Binance USD, its own stablecoin (BUSD).