Decentralized Applications and cryptocurrencies are indeed the in thing because of how they are changing the narratives in the financial transactions in the financial industry.
But as much as they have come to put the control of our financial transactions in our power, you will still need to pay some additional fees and take a few more steps like you will do if you are under centralized finance.
More than ever, the market has become more complex for participating merchants.
The current market is moving away from what we had before; longer settlement periods, spending more waking hours online as consumers, and high processing fees on credit cards have been the cornerstone of the kind of market we had before now.
The current market is addressing these wrong foundations by making merchants buy into the idea of cryptocurrencies as part of their transactional practices.
Although some merchants are buying into the idea of cryptocurrency ideology fast, others have restrictions because of the following reasons;
High volatility rates of assets
The complexity of understanding the concept of cryptocurrency
The numerous issues with the storage of these assets
Most merchants are not accepting the idea because they have not fully grasped an in-depth knowledge of cryptocurrencies and how they can integrate them into their core business practices.
Decentralized currencies needing the same amount of extra effort and fees sometimes are both a pro and a con.
Look at this example of how the extra step and fee are an advantage; this attribute of decentralized currencies has made it popular in the digital world.
It has become a very popular solution among the payment gateways in the digital world.
Decentralized currencies can achieve this kind of popularity faster because of their ability to become a solution that can copy and reproduce the usual process of debit and credit card transactions and acceptance.
PayBolt Will Solve Decentralized Payment Gateway Issue
There is only one issue with this solution that merchants who advocate for cryptocurrency integrations as core business practices are not able to solve.
It is the problem of accepting a variety of tokens that have entered the market because of the poor scalability nature of the cryptocurrencies that are the so-called big names.
PayBolt is a project that is developing a gateway payment system built on Web3 technology. The aim is to change the operations in the way both merchants and consumers approach the commerce industry.
Their ecosystem includes a mobile wallet that is compatible with both Android and iOS devices. PayBolt has a portal for paying merchants, PoS (Point of Sale) terminals, and plugins for eCommerce.
They want to use the app to connect businesses that can accept cryptocurrencies and customers that want to pay for their products using cryptocurrencies.
PayBolt's Mission 2025
The mission of PayBolt is to have a transaction volume of up to $10 billion in the last quarter of 2025. The number may look too big considering the amount of time they have till 2025, but it is not at all.
$10 billion is just a tiny fraction of the whole transactions and payments that go on through payment gateways. Just before the end of the second quarter of 2021, PayPal recorded a transaction volume of $311 billion.
Here is what PayBolt had to say about the project: "The fiat payment system is broken. In a Web3 world, we all know that crypto will be the best transfer of value in the future. At PayBolt, we are making it happen."
Attributes of PayBolt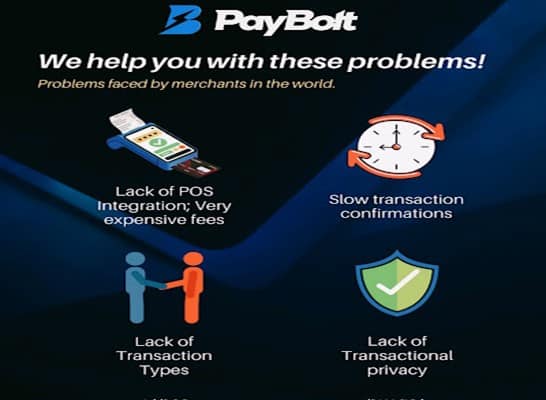 In trying to connect merchants and consumers in the payment system using cryptocurrency, PayBolt is building a payment gateway with the following attributes;
Swift translation speeds
High-security levels
Good reward levels
PayBolt has used this benefit to build and strengthen its partnership with Kee Song. Kee Song, Zingmobile JV.
PayBolt believes that they will need a layer 2 solution like Polygon to achieve their aim of providing cost-effective and fast transactions for both merchants and consumers.
PolyBolt chose to deploy (MATIC) because of their belief, in addition to their belief, the offers that Polygon brings to the table are what payment gateways need to appeal to the masses.
PayBolts Intends to Give Users a Satisfying Experience
PayBolt designed the crypto gateway payment solutions bearing in mind the different challenges that merchants might have in receiving payments from consumers in different parts of the world.
They intend to pay attention to being visible by supporting more than 150 fiat currencies and their business application that will give users a rewarding experience.
PayBolts wants to be that payment gateway solution that will make sure that the users will enjoy total decentralized payments across major blockchains like Ethereum, Binance Smart Chain, and Polygon.
They intend to integrate these blockchains into their system in addition to giving both customers and merchants the most scalable processor that is available in our today's market.
PayBolt recently released its cryptocurrency app. The application makes payment through the PayBolt gateway easy. Users can make payments with, stake, and store their cryptocurrencies.
If you study their business application carefully, you will find out that PayBolt solves the Point-of-Sale scenario. This scenario is a normal transaction that exists when a customer walks into a physical store.
With the business app, you can go to the Point of Sale tab and generate the amount for the transaction, generate a receipt, or a QR code. Customers can decide to scan the QR code and pay for products from their PayBolt wallet.
Taking this step for payment makes sure that you make the whole payment using crypto with just a single click. PayBolt has been accepting signups, currently, over 1500 businesses have signed up over two weeks.
To fasten the rate of adoption, PayBolt has decided to employ a reward system using PAY (its native token).
PAY is a token with cross-chain connecting capacity, it is the first of its kind in the ecosystem. PayBolt will reward businesses, investors, and other people who participate by transacting in the ecosystem with PAY.
PayBolt Supports More Blockchains
One of the things that marked a major success for PayBolt this year was their Business and related cryptocurrency application release. The release has paved the way for integrating Polygon.
Additionally, PayBolt has moved towards achieving the goal of developing a global cryptocurrency payment solution. The goal has driven them to keep other blockchains like Solana (SOL) and Avalanche (AVAX) on their roadmap.
Something else to pay attention to is PayBolt's continuous improvements. They have recently released two new applications and added tiers to their rewards. The reward tiers are staking and Non Fungible Tokens.
If PayBolt becomes successful, many regions of the world will benefit from the crypto-based payment system and gateway. The system is fast, cheap, secure, and cannot be censored.