Cathie Wood is profiting from ARK Invest's Coinbase holdings by selling only a small portion of its stock.
Cathie Wood, an experienced pro-Bitcoin investor, is profiting from ARK Invest's significant Coinbase holdings by selling a minor portion of its stash.
On July 11, Wood's investment firm ARK unloaded 135,152 stakes in Coinbase ($12 million) from one of its biggest exchange-traded funds (ETF), the ARK Innovation ETF. According to the transaction notification, the amount sold accounted for 0.14% of the fund's entire holdings.
The selling occurs at a time when Coinbase's stock price has risen significantly. The price surged from roughly $82 to as high as $90.9 on July 11 (data from TradingView). After Wood's selling, the stock closed at $89 on Tuesday.
According to data from TradingView, Coinbase stock has increased by more than 60% over the past month, and by more than 140% since the beginning of the year.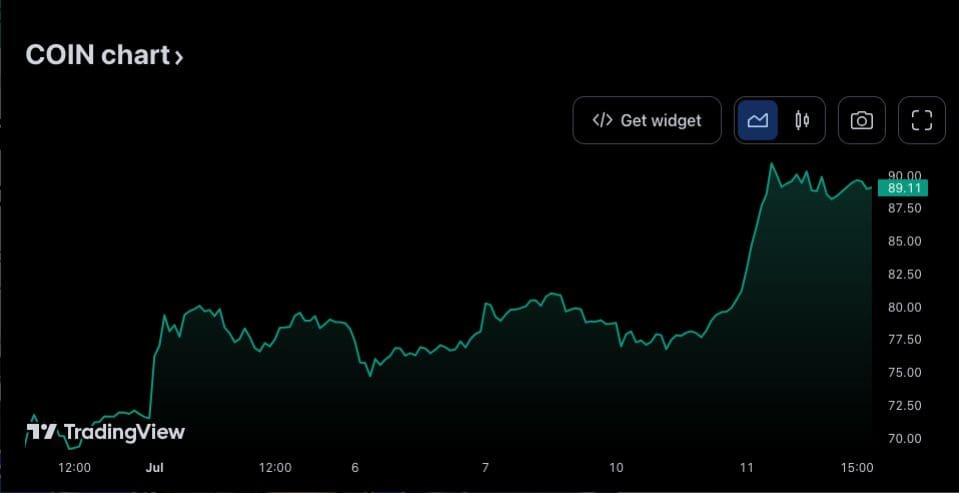 The most recent sell by ARK marks Wood's second profit-taking transaction from the stock of Coinbase this year. On March 21, ARK sold 160,887 Coinbase shares from its ARK Fintech Innovation ETF for a total of $13.5 million, which is equivalent to approximately $84 per share.
Prior to taking fresh profits from ARK's Coinbase holdings, Wood actively accumulated the stock in numerous ARK funds. ARK invested roughly $40 million in buying shares of Coinbase in the month of June. The investment company had previously purchased shares worth about $33 million in April and May and Coinbase shares worth $117 million in March.
Several Coinbase personnel, including CEO Brian Armstrong, have sold shares as the price has risen in recent months. Armstrong and three other top Coinbase executives sold 88,058 shares in total on July 6, valued at around $6.9 million at the time. Previously, Coinbase's chief accounting officer Jennifer Jones also sold 74,375 shares on June 29, gaining $5.2 million.
Coinbase stock is rising despite the exchange being sued for securities violations by the US Securities and Exchange Commission. The increase may be mostly related to investors' desire to avoid losing out on the BlackRock spot Bitcoin ETF filing, which mentioned Coinbase as a partner in "surveillance-sharing."Read More: Coinbase Shares Surge 11% Following Cboe's Confirmation of Surveillance Deal for Bitcoin ETF