With a massive increase of nearly 40% over the past 24 hours, Terra Classic's price continues to surge and remains the top performer of the day.
Terra UST (USTC), the asset's native stablecoin, also saw larger price changes. Despite widespread scepticism in the crypto community regarding the upcoming price movement, the LUNC community appears committed to pushing LUNC well above its annual goals.
Recent price action for LUNC has resulted in a near 175% increase over the past 7 days, and further gains are anticipated over the next few days.
The average daily volume of trades has increased by over 400%, reaching nearly $2.8 billion. Recent price movement may be driven by the LUNC community's increased staking and burning of LUNC tokens.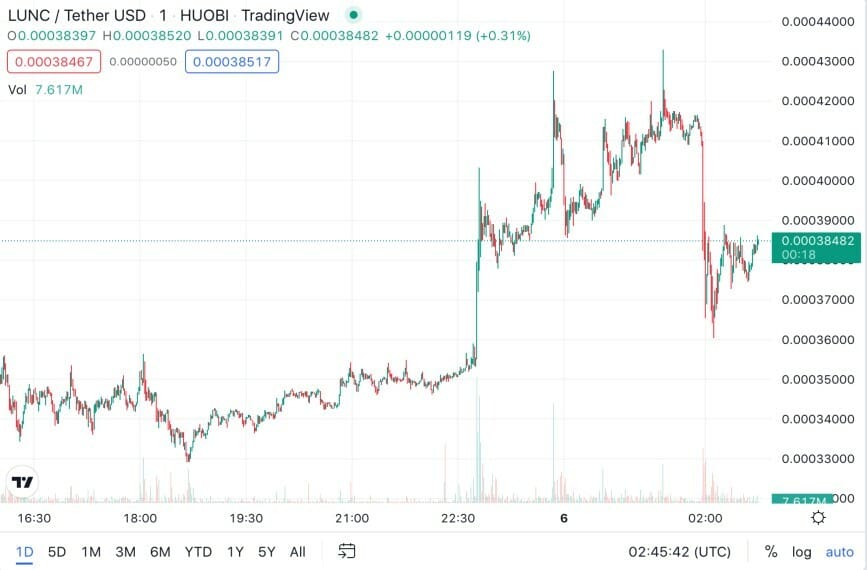 After the recent rejection at the upper resistance, LUNC price will likely consolidate for a while. In the future, the price may regain significant bullish momentum to push above $0.00055, the assumed next target.
Nonetheless, the asset may see a significant rally in the coming days due to spiralling market sentiments and growing demand.
Based on the most recent changes to the platform, Binance, which accounts for more than half of the past 24 hours trading volume, will propose a 1.2% burn tax on September 12th, 2022.
Recently, Terra announced the launch of a new governance bot to keep the community abreast of all governance-related developments and updates.
1/ 🚨Announcement🚨

Today, we're excited to roll-out a new Governance Alert Bot 🤖 that will alert you to the latest governance activity happening on Terra 👇

— Terra 🌍 Powered by LUNA 🌕 (@terra_money) August 29, 2022
The user will be pinged by the bot when:
Agora's Governance and Proposals section has a fresh new post.
The voting period for a new proposition has begun on Terra Station.
Voting on a proposal still has 48 hours to go.
A proposal's voting period is over, and the results are in.
To use the bot and receive updates on everything governance-related, users only need to follow @terra agora or join the terra Telegram channel.
The proposed 1.2% burn tax is widely anticipated to increase the current rate at which LUNC tokens are being burned. As a result, the LUNC price is forecast to continue its dramatic ascent for the foreseeable future.