A War NFT: MetaHistory
The Metaverse and NFTs are being used for the first time to raise donations for war help via the world's first war NFT Museum in Ukraine.
The war-themed NFTs' sales accumulated 190 Ethereum [$600,000] on the very 1st day; 1282 NFTs were sold at the price of 0.15 Ethereum each.
Blockchain-based MetaHistory NFT Museum of Ukraine received immense response from the people on its opening day on March 30 of this year.
Metaverse and Ukraine lovers showed their love and support and provided aid to the war-torn nation by purchasing the NFTs they didn't even see until purchase.
Each of the NFTs depicts a memorable event of the war period starting from day 1 of the Russian invasion of Ukraine on February 24, 2022.
The largest military attack in Europe since World War 2. Each NFT has individual Tweets embedded in them signifying a memorable moment of the war.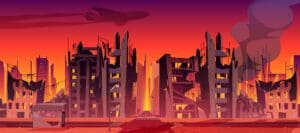 "While Russia uses tanks to destroy Ukraine, we rely on revolutionary blockchain."– Ukrainian Government Official Mykhailo Fedorov had tweeted.
Prior to the creation of the MetaHistory War NfT Museum in March, Ukraine had received donations from all around the globe in BTC, Ethereum, and other Cryptocurrencies to their Crypto Exchange Kuna, a sum total equivalent to $ 63.8 million.
These funds were used for buying war accessories for their soldiers as vests, night vision glasses, medical supplies, and other nonlethal equipment.
U.S. Securities and Exchange Commission issued SAB regulations for Cryptocurrency services and Exchanges.
In their Staff Accounting Bulletin [SAB] in March, Secretary Vanessa Countryman issued their concern about legal, technological, and regulatory risks and some guidelines about Cryptocurrency Services and Exchanges.
She said the entities [Cryptocurrency Investment Firms, Service Providers, and Exchanges] might safeguard their platform users and hold the digital assets and the cryptographic keys for maintenance and transactions, but that safeguarding might not be enough.
There are unique risks related to digital assets that are not there for the usual real-life assets.
Besides technological risks, the SAB expresses the concerns over legal risks in case of fraud, loss, theft, or bankruptcy of the assets, and in such a case, the question of how will the entities stand themselves in front of the court had been asked.
The SAB also says there are fewer regulatory requirements for holding digital assets. Entities may not be complying with regulations resulting in an increased risk to investors.
These mistakes can have a significant impact on the entity's operations and financial condition. The SAB is said to help both the entities and their platform users with a set of accompanying guidelines being issued.
Citi Global Insights emphasises latency and internet connectivity improvement and launches GPS, as only 22% of the global population is expected to have 5G access by 2025.
Whereas the target addressable market [TAM] for the Metaverse economy is to reach $ 10 Trillion Plus, there is enough need for a wider bandwidth of internet and the necessary infrastructures.
Ronit Ghose, Global Head of Banking, FinTech, and Digital Assets of Citi Global Insights said that the Metaverse may be the next generation of the internet. It will combine the physical and digital world in an immersible manner.
Citi believes the majority of internet and Metaverse users will access through their mobile devices rather than the improved virtual reality [VR] devices.
The present lags people are facing during their internet experience prove the current infrastructure is not suitable for an immense Metaverse experience.
With the aim of helping its 200 Million customers in the global economy's most demanding challenges in identifying future themes, trends, and making a profit, Citi has launched the Global Perspectives and Solutions [Citi GPS].