Summary
As June 2023 gets closer, experts issue an alert about three risky Crypto Investments that investors might want to avoid. 

Despite recent gains, Kusama (KSM), Mina Protocol (MINA), and Bitcoin Gold (BTG) score poorly on major crypto ratings. 

The fragility of these assets and their poor market performance highlight the significance of smart investing strategies. 
The majority of the assets on the cryptocurrency market are turning a greener leaf as the fifth month of 2023 comes to an end and June gets closer. In spite of this, it stands to reason that not all of the more than 25,000 cryptocurrencies are worthwhile investments, at least not right now.
Here is the list of three Crypto Investments that might be wise to avoid investing in June 2023 by considering into account various crypto ratings, historical price trends, and the most recent developments (or lack thereof).
Kusama (KSM)
Weiss Crypto Ratings (WCR) reports that Kusama (KSM) has a grade of "E-" or "very weak" in adoption and technology and a "D+" or "weak" in market performance (the average grade is "E"). This is unfortunate for Kusama (KSM), as it frequently appears on "to-avoid" lists. The asset is also rated 'CC' by Wikirating's Crypto Rating Index (CRI), which means it is 'currently highly vulnerable' to failure.
Due to the news of the first connection with Polkadot (DOT) via Cosmos IBC, Kusama is currently trading at a price of $26.32, showing an increase of 2.30% over the previous day and 3.97% over the previous week. However, according to data retrieved on May 29, it has decreased 16.47% on its monthly chart.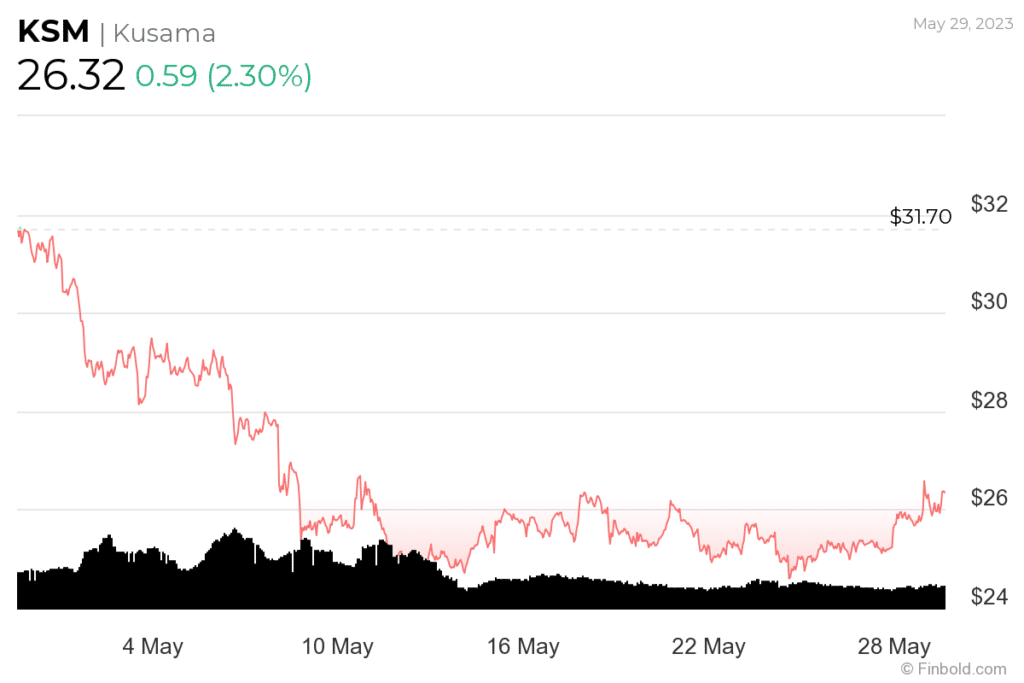 Mina Protocol (MINA) 
Mina Protocol (MINA) is another repeat offender with low ratings. Wiki's CRI has given it a 'CCC' score, indicating that this crypto asset is 'vulnerable and dependent upon favorable business, financial, and economic conditions to remain valuable,' while WCR has given it a 'E' or'very weak' score in terms of tech/adoption and a 'D+' score for market performance (average grade of 'E+').
MINA has experienced a loss of 15.67% over the past 30 days despite reports of a new zero-knowledge (ZK) proof-powered regulatory compliance tool for the decentralized finance (DeFi) and Web3 spaces. However, the recent surge in the cryptocurrency market has pushed its price up by 0.52% in the last 24 hours and 1.29% over the past week.
Bitcoin Gold (BTG)
Wikiratings and TokenInsight have both given Bitcoin Gold (BTG) a "CC" grade ("highly vulnerable"), while WCR has given it a "C-" grade ("fair"), which investors may interpret as "avoid" or "hold," with a "C" in tech/adoption and a "D+" or "weak" for its market performance. At the time of publication, BTG was trading at a price of $13.47.
According to this price, BTG, one of the forks of the primary DeFi asset Bitcoin (BTC), which has added a new mining protocol utilizing inexpensive GPUs, is recording gains of 4.70% today and 2.03% over the previous week while recording losses of 8.52% over the previous month.
Conclusion
Ratings can give investors a good idea of which digital assets are currently the riskiest to invest in, but it's important to keep in mind that circumstances in this industry can change rapidly and easily depending on a number of factors. For this reason, doing one's own due diligence and thoroughly researching an asset is essential before making a purchase.
Disclaimer: The information on this website is not intended to constitute investment advice. Investing involves risk. Capital is at risk when investing.