Based on data from CryptoQuant, Binance's reserves were only minimally affected by the unprecedented withdrawals.
After the U.S. Securities and Exchange Commission (SEC) accused cryptocurrency exchange Binance and its founder Changpeng "CZ" Zhao of alleged violations of federal securities laws, the cryptocurrency markets remained shaky on Tuesday.
Read more: Binance Formally Replies To SEC Lawsuit, Claiming To "Vigorously" Defend Allegations
Data from Nansen.ai reveals that over the course of one day, outflows from Binance reached $719 million across all protocols.
Following the SEC's announcement of its lawsuit against Binance during U.S. trading hours, net outflows reached $230 million.
Despite what appears to be a catastrophic net outflow, which is continuing unabated, Nansen data further shows that Binance's stablecoin balance is still positive. With a seven-day outflow of $519 million, or nearly 6% of holdings, the exchange's stablecoin balance is currently slightly over $8 billion. The next largest exchange by holdings, OKX, has a $4 billion balance.
Crypto analytics company CryptoQuant, based in Seoul, noted in a Twitter thread that the withdrawals are fully within historical norms.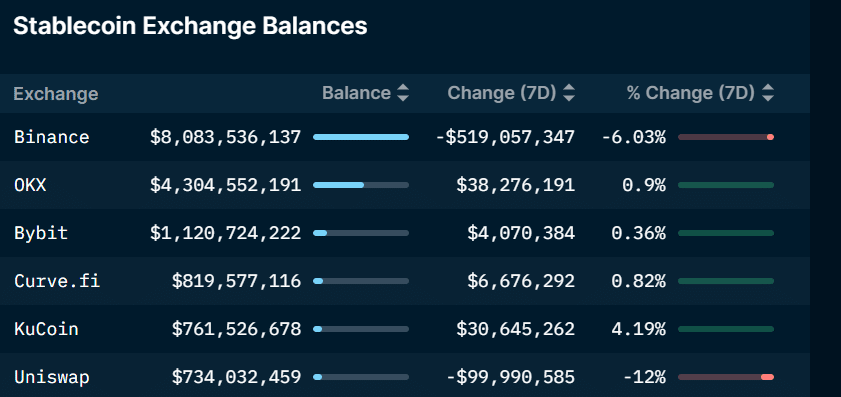 Lead Declines SAND, MANA
The SEC also claimed that several other tokens, including Binance's BNB token, the Solana (SOL), Cardano (ADA), Polygon (MATIC), Coti (COTI), and Algorand blockchains (ALGO), the Filecoin network (FIL), the Cosmos hub (ATOM), the Sandbox platform (SAND), the Axie infinity (AXS), and the Decentraland (MANA) blockchains are securities in the complaint.
Throughout the trading day in Asia, the majority of these tokens remained deep in the red.
With SAND down 13% to $0.52 and MANA down 11.6% to $0.45, the two largest metaverse stocks lead the falls. Binance's BNB is currently down 8% to $276.48.
Read More: