The first two weeks of June brought about a significant sell-off in the cryptocurrency market and a significant discount in numerous leading cryptocurrencies. During this drop, the cryptocurrency prices fell to their respective monthly supports, providing a fantastic opportunity to buy the dip. In this article, we provide a list of well-established altcoins that investors may wish to purchase.
Price Analysis of XRP (XRP): Pullback Opportunity
The XRP price fell to its monthly low of $0.4558 during the most recent corrective phase and was retested against a long-standing support trendline. Over the previous 100 days, this trendline has been supporting a substantial recovery and occasionally provides down opportunities for buyers.
The XRP price is currently trading at $0.48, down 2.7% from Monday. The price may return to the aforementioned support trendline with continued selling. The positive momentum would most likely be regained and a bullish reversal would occur on this retest.
The XRP price might return to a multi-month barrier of $0.55 as a result of the anticipated recovery.
Price Analysis of Polygon(MATIC): Coiling Before Explosive Move?
The $0.52 support was reached by the declining MATIC price, which then began to move sideways. The consolidation phase is still ongoing with a small price differential despite the increasing unpredictability in the cryptocurrency market.
At the time of publication, the Polygon currency was trading at $0.6, and the $0.52 support was feeling demand pressure. Buyers start a bullish reversal and challenge the falling trendline if the bullish momentum continues.
The key indicator of a trend change and a return to the $1 level will be a bullish breakthrough from the resistance trendline.
Analysis of the Cardano (ADA) Price: At Critical Support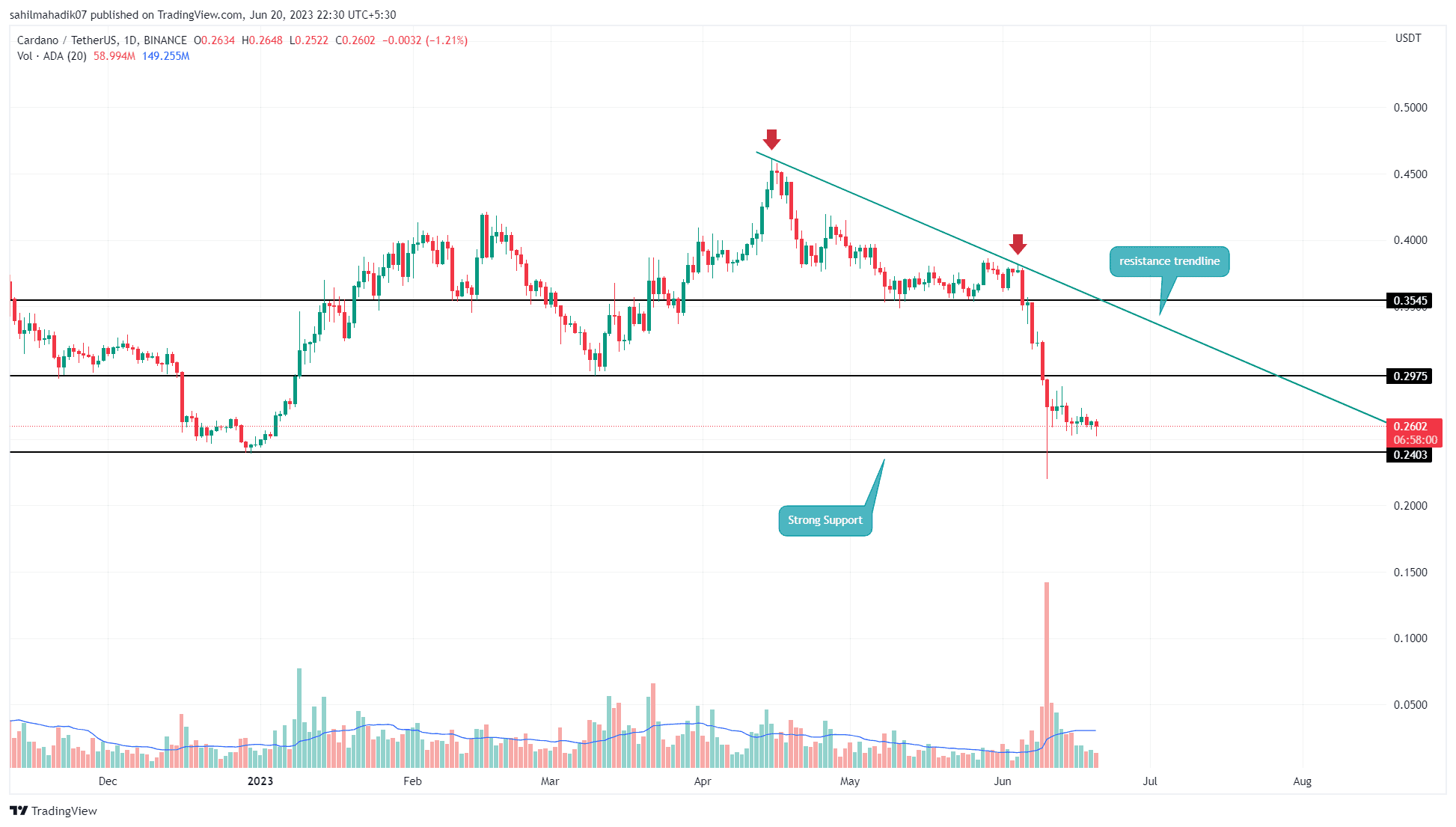 The price of ADA has been moving practically sideways for more than a week in an effort to find appropriate support at $0.24. The daily candles' long-lower price rejection tails are a reflection of the active accumulation and escalating purchasing pressure among traders.
A potential reversal from this support might push the price back to the psychological threshold of $0.3 if the bullish momentum increases. The purchasers to breach, however, breached the overhead trendline in order to achieve a solid recovery rally.
Buyers will have a strong starting point with this projected breakout to drive the ADA price above $0.35.