Ripple Labs had filed a motion to oppose the appeal request SEC had made but the judge gave them the leeway. The XRP token has been hit hard and has fallen below 0.50$.
The XRP Token Suffers A Major Drop
According to reports, the XRP token has fallen by more than 20% of its initial value after the appeal request by the SEC was granted. Ripple is currently at war with the SEC and this continues to breed a negative market sentiment for the token.
Judge Torres approved the motion and Ripple was given up to 1st September to submit its counter motion. The SEC will be able to respond to the opposition filed by 8th September. The pressure continues to build for the XRP token after it had just been granted a partial victory in the same case last month.
Investors remain crossing their fingers hoping that the case will be in favor of the XRP token.
The XRP Price Journey According To The Chats
The token suffered a major setback when it tried climbing past the 0.65$ resistance level. The drop to below 0.550$ started as soon as the news was announced although the value of the coin has been dropping.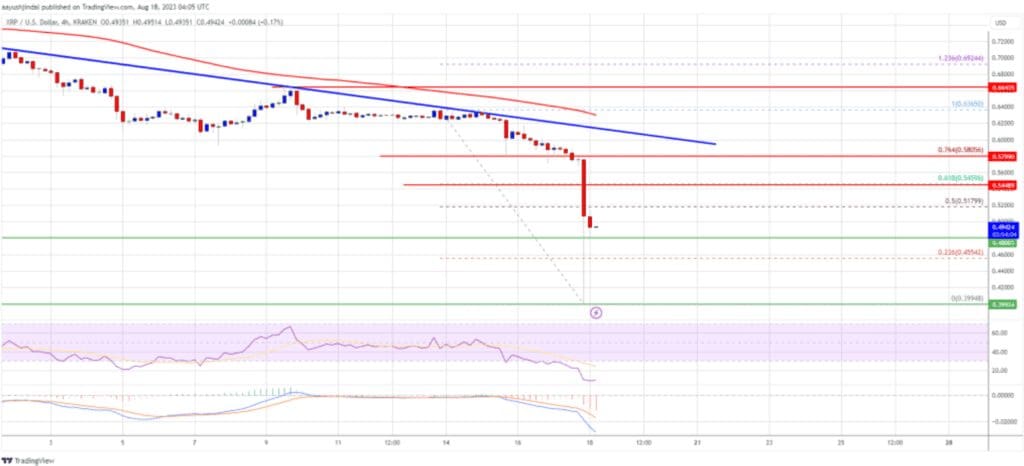 BitPay decided to list the token on its exchange and this would have been positive market sentiment for the token. Coingape predicts that if the XRP token does not go above the 0.550 resistance level, there are major chances that it could take another blow and fall downwards. If the worst comes to be realized, we could be seeing the value sinking below 0.450$.