The market's cryptocurrency prices have fallen over the past week as momentum slowed, but some meme coins have succeeded in holding onto a significant amount of their gains throughout this time. Despite numerous predictions of their "destruction," these meme coins have maintained strong performance.
Top 5 Profitable Meme Coins :
Floki Inu (FLOKI)
One of the top-performing meme coins at the moment is Floki Inu (FLOKI), which was named after Elon Musk's Shiba Inu dog, Floki. With a $471 million market cap, it is the third-largest meme coin according to CoinGecko.
This is due to FLOKI's ability to hold onto a significant percentage of its gains during the past week. On the seven-day chart, the majority of cryptocurrencies are showing negative values, but the meme coin is up by 25.7%, outpacing even its biggest rivals like Dogecoin and Shiba Inu.
Shiba Predator (QCM)
Another meme coin that has performed excellently, even better than FLOKI, is this one. The meme coin has gained by about 23% over the past seven days, maintaining significant gains. According to data from CoinGecko, the rally increased its market cap past $59 million, making it the ninth-largest meme coin.
The last day has been difficult for this cryptocurrency, nevertheless, as its price has dropped by more than 9.60%. Despite this, there is still a lot of interest in the meme coin as volume has increased 9.32% over the past day, reaching $2.13 million at the time of writing.
DogeBonk (DOBO)
Now, DogeBonk (DOBO) is a cryptocurrency that excelled in the last bull market. In 2021, the meme coin climbed by more than 38,000,000%, making its fair share of millionaires in the process. The coin's price has increased by about 15% during the past week, but it has now fallen by more than 80%.
DOBO is presently the 21st largest meme coin on the market with a market cap of $4.7 million. Unlike to the other cryptocurrencies mentioned above, DOBO is showing gains on the 24-hour chart after rising 11.6% over this period. At only $61,000, its volume has increased by 800% in the last day, making it one of the most volatile cryptocurrencies.
Top meme coins in crypto
Although the three listed meme coins have performed well over the past seven days, they are still far from being the dominant players. Dogecoin (DOGE) and Shiba Inu (SHIB), which are both listed as two of the fifteen largest cryptocurrencies by market cap, are the only coins eligible for that distinction.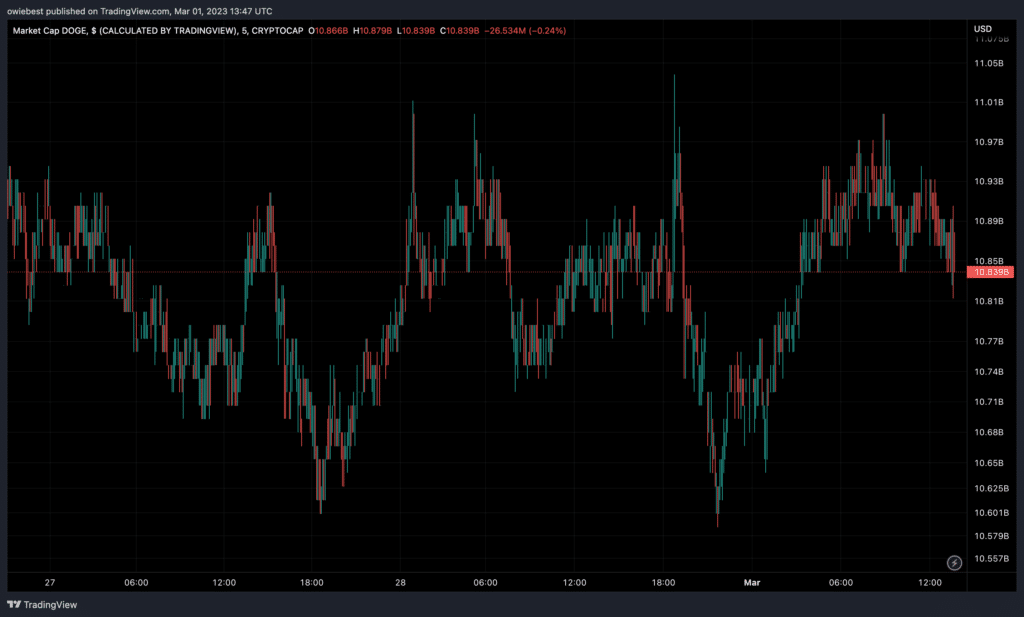 Despite being the ninth-largest cryptocurrency, Dogecoin's price has decreased by 4.58% during the past week. Shiba Inu, the fourteenth-largest cryptocurrency, has experienced a price decline of 3.58% during the past week, much to Dogecoin.