The cryptocurrency market has been an arena of unbridled excitement, with Bitcoin leading the charge in a spectacular price surge. As the world's most famous digital asset climbs to new heights, investors have reaped significant gains. However, alongside these triumphs, the volatile nature of the market has left some short-position traders disheartened.
With Bitcoin's rapid ascent, a number of popular accounts saw their capital diminish dramatically. So, what can we expect in the coming month? Will Bitcoin's bullish trend continue throughout November?
November: A Month of Possibilities For Bitcoin
The meteoric rise of Bitcoin, breaching the $35,000 mark, has refueled hopes of achieving this milestone once more. Recent market activity, bolstered by the CoinShares report, is inching closer to the $34,900 mark. The stability near this pinnacle, coupled with a substantial surge in institutional trading, hints at the possibility of another exhilarating bull run. Yet, it all hinges on the conclusion of October.
The monthly closing figures for October are under scrutiny, as they hold the key to shaping the market sentiment for November. While the crypto space tends to witness an upswing in October, it is imperative to remember that history does not always predict the future. Although the odds appear to be in favour of a double-digit increase in November, cryptocurrency markets are famously unpredictable.
Also Read: Bitcoin Cash Price Prediction 2023 – 2030: Will BCH reach $1,000?
Analyzing The Crypto Landscape
A deep dive into the cryptocurrency landscape reveals intriguing insights. The Bitfinex Alpha report highlights the growing bullish sentiment within the options market, indicating an 80% surge in open call interest in October. With a total of $16.35 billion in trading positions, this month's options market performance surpasses the heights of 2021.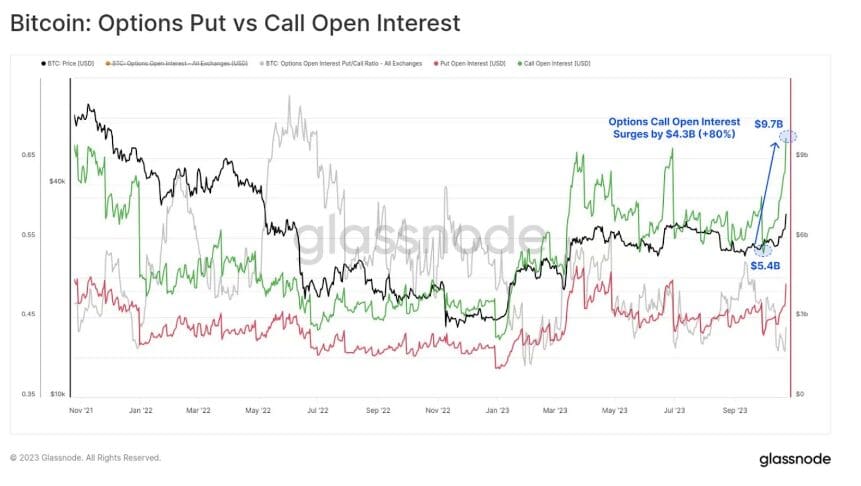 The Bitfinex Alpha report illustrates a noticeable trend where both seasoned and novice investors are directing substantial capital towards options. The increased open interest in call options is a significant development in risk appetite and investment strategy. Yet, it's important to note that a positive outlook in the options market does not guarantee a bull market.
While short-term investors are cashing in their profits, indicating potential upward and sideways movement in the coming month, factors like the ETF approval and the ongoing Binance case by the US Department of Justice may introduce unexpected market dynamics.
Conclusion: As the cryptocurrency market steers through uncharted waters, it's essential for investors to proceed with caution. The potential for growth is undeniable, but so are the associated risks. Historical data can offer insights, but it should not be relied upon to predict the future.
Disclaimer: Before making any investment decisions, investors should conduct thorough research and consider the high volatility of cryptocurrencies. Remember, cryptocurrency investments are not for the faint-hearted.