Bitcoin Cash (BCH) is a cryptocurrency that originated from a hard fork of Bitcoin in August 2017. It was created to address the scalability issues associated with Bitcoin by increasing the block size limit, thereby allowing more transactions to be processed in each block. This enhancement aimed to make transactions faster and fees lower, providing a more efficient payment system than the original Bitcoin. While Bitcoin Cash shares many technical similarities with Bitcoin, it operates on a separate blockchain and has its own distinct market value.
Factors influencing the price of Bitcoin Cash (BCH)
The price of Bitcoin Cash (BCH) is influenced by a myriad of factors, both internal to the BCH community and external, linked to the broader crypto market and global economic conditions. Here are the primary factors affecting its valuation:
Market Sentiment: As with all cryptocurrencies, the overall sentiment in the crypto space plays a vital role. Positive news or endorsements can lead to bullish runs, while negative press or regulatory concerns can trigger downturns.
Supply and Demand Dynamics: The basic economic principles of supply and demand dictate the price of any commodity, including BCH. If demand for BCH rises, while the supply remains constant, its price is likely to increase.
Bitcoin's Performance: Given that Bitcoin Cash is a fork of Bitcoin, the performance and technological advancements in Bitcoin can significantly influence BCH's price.
Technological Developments: Updates or upgrades to the Bitcoin Cash network, such as improved scalability, can enhance its appeal and thus its price. Conversely, technical issues or perceived setbacks can depress its value.
Regulatory News: Decisions made by regulatory bodies around the world can have a profound impact on BCH's price. Favorable regulations or the integration of BCH into traditional financial systems can boost its price. In contrast, potential bans or negative regulations can bring about price declines.
Mining Profitability: The profitability of mining BCH influences the number of miners supporting the network. An increase in mining rewards can boost network security and, by extension, investor confidence.
Adoption and Acceptance: As more merchants and platforms start accepting BCH for payments or integrating BCH into their operations, its utility and demand might increase, potentially driving up its price.
Network Activity: A high number of transactions and active addresses can indicate a healthy and active BCH network, which could positively influence its price.
Competition: With numerous cryptocurrencies available in the market, the rise or advancements of potential competitors can influence BCH's market position and price.
Speculation: A large segment of crypto trading is driven by speculators. Their trading behaviors, influenced by short-term gains, can introduce volatility to BCH's price.
Security: Confidence in the BCH network's security is paramount. Any successful attacks, vulnerabilities, or major security breaches can erode trust and negatively affect its price.
Economic Factors: Broader economic factors, such as inflation rates, monetary policies, and economic crises, can drive investors to or away from assets like cryptocurrencies, thereby affecting BCH's price.
General Cryptocurrency Market Trends: Broader market dynamics, such as bull or bear runs in the cryptocurrency space, can influence the price of BCH, just as they would any other digital currency.
Forking Events: Given that BCH itself is a result of a hard fork from Bitcoin, any subsequent forks from the BCH blockchain can create uncertainty and impact its price.
It's crucial to understand that cryptocurrency markets, including Bitcoin Cash, are notably volatile, and while these factors provide insights, exact price movements remain inherently unpredictable.
Bitcoin Cash (BCH) Current Price Chart
Bitcoin Cash
(BCH)

Price
Market Cap
Bitcoin Cash (BCH) Price History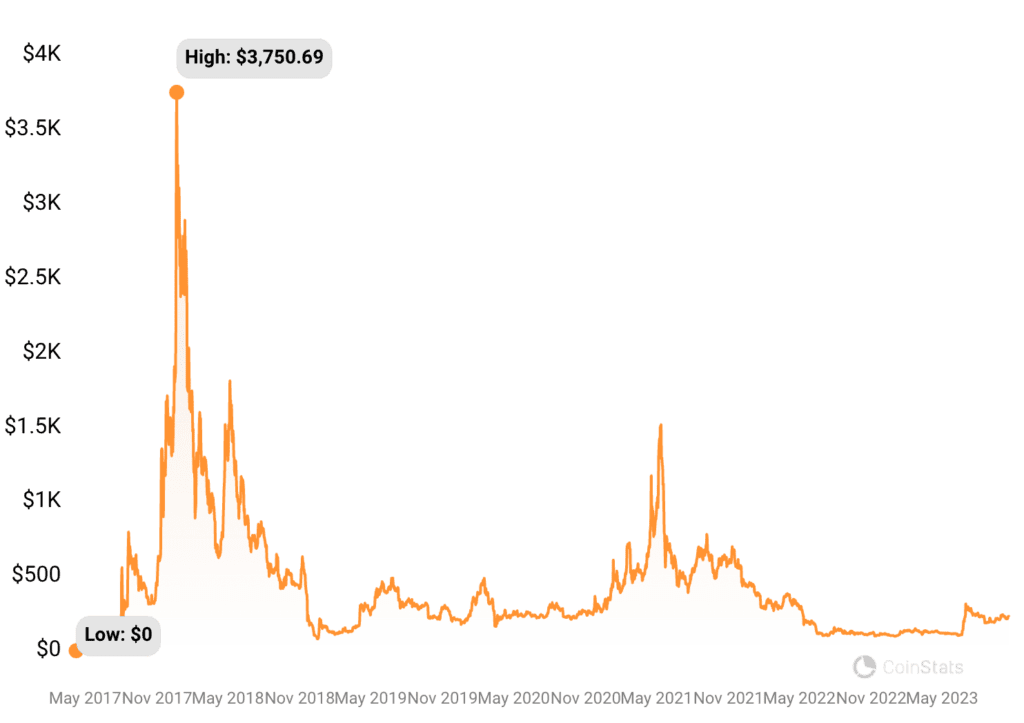 Yearly Bitcoin Cash Price Prediction Table 2023–2030
The Bitcoin Cash price prediction outlined in the table below for the years 2023–2030 is based on hypothetical values. These forecasts are derived from a blend of current market insights, past performance patterns, and an imagined analysis of the Bitcoin Cash chart.
| YEAR | MINIMUM PRICE | AVERAGE PRICE | MAXIMUM PRICE |
| --- | --- | --- | --- |
| 2023 | $98.56 | $232.03 | $365.49 |
| 2024 | $287.41 | $441.32 | $595.22 |
| 2025 | $463.38 | $618.16 | $772.94 |
| 2026 | $629.72 | $761.68 | $893.64 |
| 2027 | $801.96 | $917.03 | $1,032.09 |
| 2028 | $1,086.29 | $1,334.46 | $1,582.62 |
| 2029 | $1,479.46 | $1,678.02 | $1,876.57 |
| 2030 | $1,833.57 | $1,975.80 | $2,118.02 |
Bitcoin Cash Price Prediction 2023
For 2023, the hypothetical data indicates a potential high of $365.49, retracting to a more conservative low of $98.56. Evaluating these imagined market dynamics, the expected average might hover around $232.03. The ongoing advancements in Bitcoin Cash's network and its position as a more scalable alternative to Bitcoin might keep BCH in the limelight.
Bitcoin Cash Price Prediction 2024
The year 2024 may see BCH fluctuating between a commendable peak of $595.22 and a base of $287.41. Averaging these figures, BCH might stabilize at about $441.32. As the ecosystem around Bitcoin Cash continues to mature, it could garner increased attention from the crypto community.
Bitcoin Cash Price Prediction 2025
In 2025, BCH's hypothetical range could stretch from a low of $463.38 to a bold peak of $772.94. Finding a midpoint between these values might result in an average price of approximately $618.16. Bitcoin Cash's initiatives to streamline transactions and bolster its infrastructure could be central discussion points.
Bitcoin Cash Price Prediction 2026
Venturing into 2026, BCH might swing between an ambitious high of $893.64 and a foundational $629.72. An average price of $761.68 might emerge, emphasizing the projected accomplishments of the Bitcoin Cash network.
Bitcoin Cash Price Prediction 2027
Approaching 2027, the hypothetical scenario suggests a BCH price band from $801.96 on the lower end to an impressive $1,032.09 at its height. An average valuation of around $917.03 might dominate the conversation, underscoring the advancements and broader adoption of BCH.
Bitcoin Cash Price Prediction 2028
By 2028, BCH could oscillate between a solid floor of $1,086.29 and a notable peak of $1,582.62. An average price of about $1,334.46 could be on the cards, mirroring its anticipated growth trajectory.
Bitcoin Cash Price Prediction 2029
Transitioning into 2029, BCH might aspire for a top of $1,876.57, while possibly maintaining stability near $1,479.46. Given these hypothetical valuations, a consolidated price close to $1,678.02 seems feasible, highlighting BCH's potential evolution.
Bitcoin Cash Price Prediction 2030
Projecting to 2030, BCH's scope in this fictional narrative could range from a significant $1,833.57 to a spectacular $2,118.02 zenith. Integrating these speculative values, an average of about $1,975.80 emerges, spotlighting BCH's potential contributions to the digital cash landscape.
What is Bitcoin Cash (BCH)?
Bitcoin Cash (BCH) is a cryptocurrency that emerged from a hard fork of Bitcoin in August 2017. It was developed to address the scalability challenges of Bitcoin by enlarging the block size limit.
Where can I buy Bitcoin Cash (BCH)?
Will BCH reach $1,000?
Yes, according to our analysis, Bitcoin Cash will reach $1,000 in 2027 but there is high possibility that it can also achieve this before time.
How does Bitcoin Cash differ from Bitcoin?
While Bitcoin Cash shares many technical aspects with Bitcoin, it operates on its own separate blockchain, possesses distinct market value, and primarily aims for faster transactions and lower fees by allowing more transactions per block.
What were the potential highs and lows for BCH in 2023?
For 2023, BCH might reach a high of $365.49 and drop to a low of $98.56, with an expected average of around $232.03.
Why is Bitcoin Cash's performance often linked to Bitcoin's performance?
Since Bitcoin Cash emerged as a fork from Bitcoin, developments, and technological advancements in Bitcoin can profoundly influence BCH's price and market perception.