Up to 20% of Binance's present employees could be laid off in June, but the company isn't calling its resource allocation plans a "rightsizing."
The largest cryptocurrency exchange in the world, Binance, has acknowledged that it is "reevaluating" its talent pool in response to a third-party report that the company intends to fire about 20% of its employees early next month. 
The findings of the survey stand in stark contrast to Binance's position of strength from a year ago when it stood out among leaders in the sector by continuing to grow despite the bear market. 
Binance Will Lay Off Employees
Popular Chinese cryptocurrency journalist Colin Wu said on Wednesday that he had "multiple sources" confirm that Binance has started to lay off employees. Estimates suggested that the number of laid-off staff could be as high as 20% of Binance's total workforce of 8000 people, despite the fact that the actual amount is currently unknown. 
Wu clarified that "some departments are still recruiting." "The poor overall market and the prior large expansion may be related to the layoffs."
Binance CEO Changpneg Zhao claimed over a year ago that the exchange had a "healthy war chest" because of comparatively conservative expenditure during the bull market the year before.
Contrary to other exchanges like Coinbase and Crypto.com, which were downsizing staff, Binance said at the time that it would be employing over 2000 people. 
It's Not A "Rightsizing"
It appears that nothing has changed there. In a message issued on Wednesday to CryptoPotato, a spokeswoman for Binance affirmed that the company is continuing its search for new talent in order to "fill hundreds of open roles."
The spokesperson stated, "It has become evident that we need to focus on talent density across the firm to ensure we stay nimble and dynamic as we prepare for the next significant bull cycle. This is not a question of right-sizing, but rather of reassessing whether we have the necessary talent and knowledge in key positions.
The official further stated that the organization will investigate "certain products and business units" to make sure its resources were used effectively. 
Patrick Hillman, chief communications officer for Binance, emphasized that the company was not implementing a 20% layoff "as a cost-cutting measure." Instead, it's a component of a "talent density audit and resource allocation exercise" that the business runs every six months. 
At Binance, "we have amazing talent, and we are going to continue to retain and hire more top talent," he said.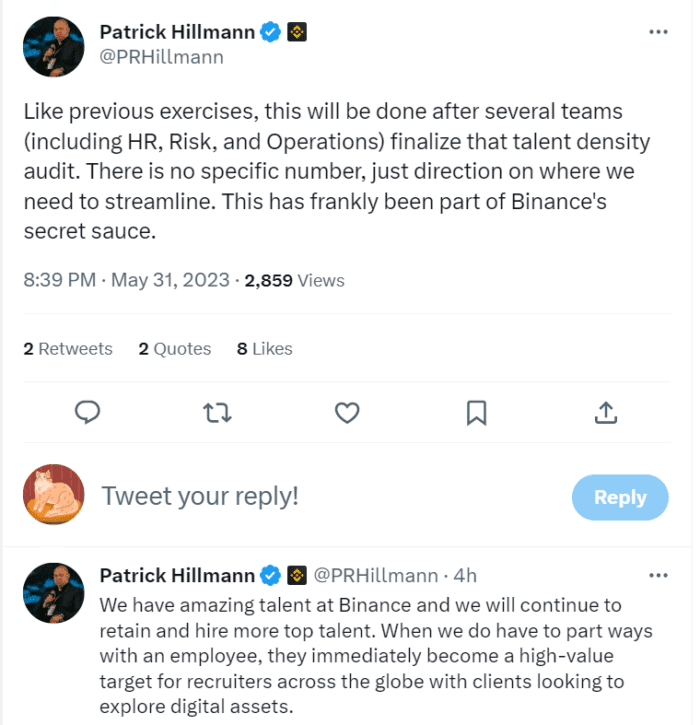 Major cryptocurrency companies like Coinbase and Block reported significant quarter-to-quarter revenue increases in Q1 2023 despite a slowdown in business activity the previous year as the market recovered significantly from its November lows.