The popularity of "Get-Paid-To" (GPT) sites like Swagbucks and Prize Rebel is at an all-time high due to their simplicity and so is Freecash now with its variety of withdrawals and more earning methods. It costs nothing to join, and there are easy ways to make some extra cash. They won't make you rich, but the money you make can go toward your daily coffee budget or public transportation costs.
Freecash.com is another GPT site that puts a new spin on the genre by offering non-monetary incentives like gaming skins and cryptocurrency in addition to traditional cash payouts. Can Freecash, a newcomer to the GPT scene, really hold its own against the established leaders? With the information in this review, you'll be able to determine if Freecash is right for you and how it operates.
What is Freecash?
One way to earn money online is through GPT sites like Freecash. Pay-per-task (GPT) websites like Freecash give you a few cents to a few dollars for doing simple online tasks like taking surveys, testing software, and the like. At first, Freecash was called Freeskins.com, and it simply offered gamers a way to acquire virtual currency by completing simple tasks.
As time went on, the site expanded its offerings, and its leadership saw that it could help more people than just gamers. They rebranded as Freecash in August 2021, switching their URL to Freecash.com. Increases in accessibility and usability have made it easier for more people to profit from GPT endeavors.
How Freecash Works?
Gaining Freecash benefits is simple. To begin, click the Sign-Up button in the upper right corner of the page, and then enter your email address, username, and password. If you already have a Steam or Google account, you can use that to sign up.
When you reach that point, you can start working on various tasks that will earn you Coins from Freecash. The value of one thousand Coins is equivalent to one dollar. The ultimate goal of collecting Coins is to make a purchase from Freecash's store.
The store sells a wide variety of items, including game skins, gift cards, and cryptocurrency. You also have the option of exchanging your coins for cash via PayPal. Here are a few of the site's most useful features, along with an explanation of how they can net you extra Coins.
What Features Does Freecash Offer?
1. Offerwalls & Surveys
Freecash's offerwalls are one of the most important features for making money. If you click on one of these ads and complete an offer, you will be rewarded with something of value (in this case, Freecash Coins).
The term "offer" can refer to a variety of different actions, such as downloading an app, making a purchase, trying out a new game, becoming a member of a website, or completing a short survey or quiz. After following the steps in an offer's instructions to the letter, you will receive payment.
The most popular tasks on Freecash are displayed prominently on the homepage. These are typically the highest-paying offers in terms of Coins. In addition, Freecash's Offerwalls occasionally feature bonus offers that can significantly boost your earnings. Keep an eye out for these optional additions.
To earn Coins, you can also participate in online surveys. There is a wide range of payouts available across a variety of survey lengths. Before starting a survey, you can see how long it will take and how much money you will earn for completing it.
Knowing which surveys to complete in advance allows you to better manage your time. Please note that in order to start receiving survey invitations from Freecash, you will need to complete your profile. By filling out the profile questions, you will help Freecash send you more relevant surveys.
2. Referral Program
To increase your coin balance, join Freecash's referral program. This is how it operates:
When you sign up for a Freecash account, you'll be given a unique referral code to share with your friends. If you know anyone who would be interested in making extra money from home, have them contact you so you can give them your unique referral code.
In the recent update, Freecash has introduced a new multi-tier referral program where you can earn up to 30% of affiliate income.
3. Leaderboard
Every day and every month, Freecash users can win prizes by placing their names on the leaderboard. You will be eligible to win cash from the Coin giveaway if you are one of the top 250 users on the leaderboard on a daily or monthly basis. Your chances of winning coins each day or each month depend on how many points you have (relative to the other 249 daily or monthly winners). Keep in mind that it takes a lot of time spent on the Freecash site in order to get on the leaderboard and start winning prizes.
4. Variety of withdrawal options
When you reach the Freecash payout threshold, you can choose from a variety of withdrawal methods.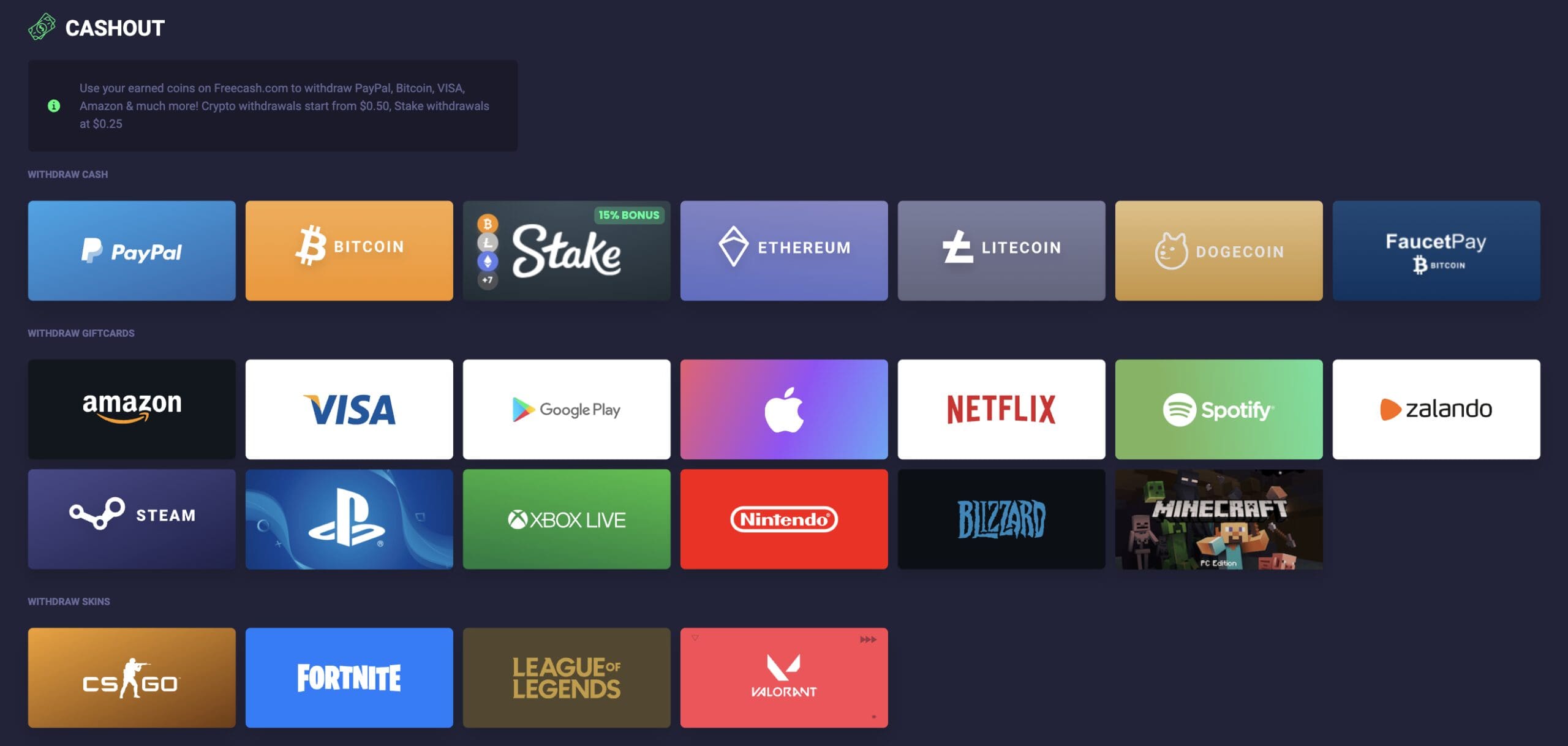 All transactions are settled through PayPal for instant payment.
Don't forget that we offer a wide selection of gift cards, including Amazon
Coins can be exchanged for other cryptocurrencies if desired.
The four cryptocurrencies available for withdrawal at the time of this writing are Bitcoin, Ethereum, Litecoin, and Dogecoin. Payouts in cryptocurrency begin at $0.10, but you'll need 5,000 Coins (roughly $5) to withdraw to PayPal or a gift card.
You can cash out your rewards in cryptocurrency to any of several supported wallets. Verify the fee details for sending your cryptocurrency rewards to a cryptocurrency wallet.
Withdrawals can also be made in the form of Steam credit (minimum 6,000 points), Fortnite cosmetics (minimum 10,000 points), or CS:GO skins.
Freecash Pros and Cons
Pros
The many offer walls available are ranked from most popular to least.
There are several offers that you can earn from
Withdrawal options include PayPal, Bitcoin, e-gift cards, and game currency.
The minimum payout is only $0.10.
24/7/365 access to a live chat for help requests
After signing up, the winnings range from a penny to $250.
The Freecash app, or a web browser, are both acceptable means of completing tasks.
Cons
Commissions from the affiliate program are a paltry 5%.
There is a 5% fee applied to PayPal withdrawals.
There is only an Android app
Freecash FAQ
How do I sign up for Freecash?
To sign up for Freecash, simply click on the Sign-Up button located in the upper right corner of the website. There will be a prompt for your email, username, and password. Alternatively, you can sign up using your Steam or Google account.
How can I earn money on Freecash?
There are several ways to earn money on Freecash. You can complete offers on the offerwalls, which may include tasks like downloading apps, making purchases, trying out new games, or taking surveys. Additionally, you can participate in online surveys to earn money. Referring friends through the referral program is another way to increase your earnings.
How do I redeem my earnings on Freecash?
Once you accumulate enough Coins on Freecash, you can redeem them for various rewards. The store offers a wide range of items, including game skins, gift cards, and cryptocurrency. You can also choose to exchange your Coins for cash through PayPal. Withdrawal options also include cryptocurrencies such as Bitcoin, Ethereum, Litecoin, and Dogecoin. Minimum payout thresholds and specific requirements may apply to each withdrawal method.
Are there any fees for withdrawals on Freecash?
While Freecash does not charge any fees for most withdrawal methods, there is a 5% fee applied to PayPal withdrawals. Make sure to check the specific fee details for sending your cryptocurrency rewards to a cryptocurrency wallet.
Can I earn more by referring others to Freecash?
Yes, Freecash has a referral program that allows you to earn additional income. When you sign up, you will receive a unique referral code that you can share with your friends. You can earn up to 30% of the affiliate income through the multi-tier referral program.
What are the minimum payout thresholds on Freecash?
The minimum payout threshold varies depending on the withdrawal method. For PayPal and gift card withdrawals, the minimum threshold is 5,000 Coins (approximately $5). Withdrawals in cryptocurrency start at $0.10 but require 5,000 Coins as well. For specific rewards like Steam credit, Fortnite cosmetics, or CS:GO skins, minimum points requirements apply.
Is there customer support available on Freecash?
Yes, Freecash provides access to a live chat support system 24/7/365. You can reach out to them for assistance or help requests.