Even though most assets on the cryptocurrency market have been going down, there are still some assets that have been slowly doing better, and some of them are still available at the low entry price threshold of $0.10 per whole coin.
In this context, Finbold has investigated the crypto market to find various digital assets with the potential to expand in price, giving an appealing investment opportunity for the week starting August 7.
Shiba Inu (SHIB), the dog meme digital asset that has lately gained attention as a result of Binance, one of the biggest cryptocurrency exchanges in the world, expanding its loan services and using Shiba Inu as a collateral asset, comes in first place on the list of the most alluring crypto investments under $0.10.
According to statistics from August 4, Shiba Inu is currently trading at $0.000008599, up 4.47% for the previous 24 hours, 9.77% over the previous week, and 14.67% over its monthly trend.
At the same time, Singapore-based XinFin Network's native cryptocurrency, XDC Network (XDC), recently soared more than 300% from its monthly low of $0.03 to reach a one-year high of $0.08, the highest level seen since January 2022 and the culmination of a five-day bullish rally.
The network has recently made news with high-profile partnerships, such as the Authenticity Guarantee for streetwear on eBay (NASDAQ: EBAY) and the R3 Corda alliance, even though the motivation behind such activity is unclear. XDC is currently up 9.65% for the day, up 37.45% for the week, and up a staggering 153.03 over the past month. It is trading at $0.08148.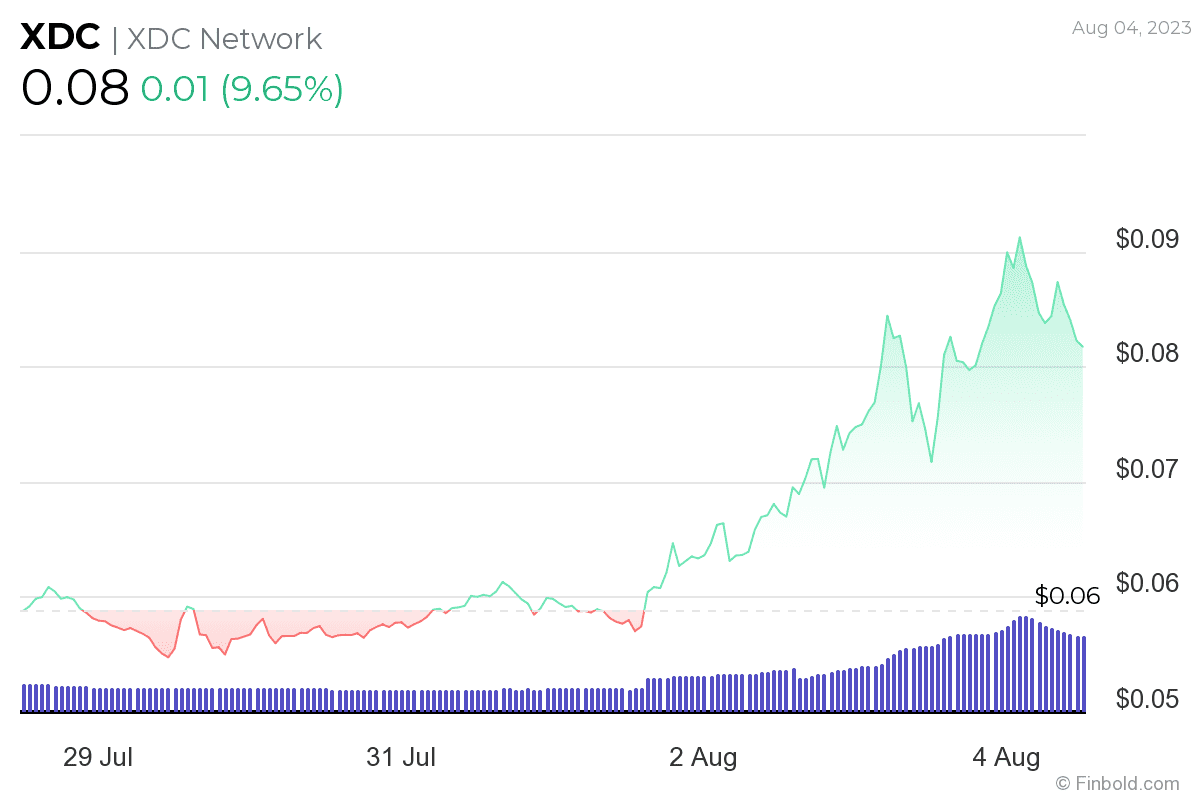 The Directed Acyclic Graph (DAG)-based proof-of-work (PoW) platform Kaspa's (KAS) token, meanwhile, has drawn a lot of attention for itself thanks to its outstanding performance, which may have something to do with the company's successful completion of the crowdfunding campaign to secure KAS a prestigious Tier-1 exchange listing.
Interestingly, Kaspa has been showing steady growth on all of its charts, including the year-to-date (YTD), where it has risen by an astounding 783.27%. At the moment, the price is $0.04591, up 1.91% over the previous 24 hours, 27.36% over the previous 7 days, and 100.81% over the previous month.
Conclusion
All things considered, the aforementioned cryptocurrencies under $0.10 have proven their potential to flourish and increase in value despite market sluggishness that has even negatively impacted the leading decentralized finance (DeFi) asset. However, as things in this industry might suddenly change, it is crucial to do one's own research.
The information provided on the site should not be considered as investment advice under any circumstances. It is speculative to invest. When you invest, your money is at risk.