Toyota Gazoo Racing is revving up its North American racing series, the Toyota GR Cup, by embracing blockchain technology. The latest press release reveals that the racing league will now be awarding digital trophies and recording driver performances on the Polygon blockchain.
Toyota Gazoo Racing Cup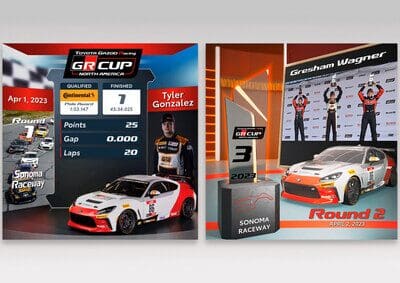 With this on-chain awards system, podium finishers, those securing first, second, or third place in a race, will receive digital trophies. These blockchain entries will also house comprehensive statistics about the race and the drivers' exceptional feats.
Jack Irving, the executive commercial director for Toyota Racing Development (TRD), sheds light on the motive behind this program. According to him, integrating blockchain allows them to create a permanent digital record of drivers' accomplishments, enabling them to share their successes with fans, friends, and family. Moreover, it opens doors to innovative opportunities for engaging race enthusiasts with their partners.
The Toyota Gazoo Racing League and the GR Cup were ingeniously designed with fans in mind. The real-world GR Cup drivers commence the thrilling gameplay arc with a stock vehicle, the Toyota GR86, featuring only factory-available options.
Subsequently, the driver's ride heads to a TRD garage, aptly named "Gazoo," where it is upgraded with official Toyota racing gear. This standardization levels the playing field, ensuring each driver starts the race on equal footing with standardized hardware across the grid.
Toyota's venture into the blockchain space began as early as 2016 when the company joined the R3 Consortium in a strategic partnership to explore and develop blockchain technologies. Later, in 2019, Toyota established its Toyota Blockchain Lab.
While it remains uncertain whether fans will have direct interaction with the digital trophies or if Toyota intends to mint any form of digital collectibles, the press release assures that drivers will have convenient access to their previous accomplishments before and after events.
The upcoming races in the series are eagerly awaited, set to take place at the Big Machine Music City Grand Prix in Nashville, Tennessee, from August 4th to 6th. Toyota Gazoo Racing is undeniably taking a revolutionary leap into the world of blockchain, giving its racing series an exciting tech-driven edge.